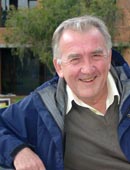 A recommendation by the Productivity Commission that the Federal Government no longer match the research levy paid by farmers is a risky experiment based on little evidence, says a respected economist with Charles Sturt University (CSU).
In his submission on the Commission's draft Report , Dr John Mullen, an adjunct Professor with CSU's
Institute for Land, Water and Society
(ILWS), estimated that the Commission's recommendation to the Federal Government would likely reduce its annual support for agricultural research and development (R&D) by $75 million, equivalent to the loss of the research branch of a large state department of agriculture.
The Commission was reporting on how effectively Australia's unique Rural Research and Development Corporations (RDC) model contributed to rural research in Australia through the amount of research carried out and how funding is shared between public and private sectors.
According to Dr Mullen, the PC report generally supported the RDCs. "But the Commission seems bent on reducing government support for agricultural R&D. "The cause for this seems to be the Commission's estimate that public support for agricultural R&D is about five times greater than public support to R&D in other sectors of the economy. Many economists argue, however, that because of the nature of agricultural research and the structure of agriculture itself, underinvestment in R&D is more likely than in other industries and hence a greater level of public support is warranted.
"The Commission reluctantly accepted that rural research earns high rates of return on the public funds invested. Economists argue these high rates of return show this underinvestment, especially given their persistence over many decades," Dr Mullen said.
"However, the Commission argued this should be incentive for industry and to increase research levies paid by farmers, so government can withdraw and avoid 'crowding out' the private sector. This is risky. Farmers are unlikely to increase levies and may even reduce them if public research infrastructure becomes inadequate."
Recent research by Dr Mullen and colleagues at the Australian Bureau of Agricultural and Resource Economics attributed that the recent slowdown in productivity growth in broadacre agriculture to declining public funding as well as recent droughts. Adapting data based on the 2008/09 Australian Bureau of Statistics survey, Dr Mullen found that public investment in agricultural R&D (excluding fisheries and forestry) has again fallen by 15 per cent since 2006/07. Investment by the RDCs has fallen probably due to poor seasons, while business investment rose strongly.
The Commission also recommended the establishment of Rural Research Australia (RRA), with annual funding of $50 million to conduct R&D into land, water and energy use, some of which was formerly undertaken by the disbanded Land and Water Australia. It further recommended that the RDCs focus on R&D giving benefits to industry and that the RRA focus on R&D delivering environmental and social benefits to the community.
While the establishment of the RRA is welcomed by Dr Mullen, he is worried by the suggestion that the RDCs withdraw from environmental R&D also carries unacceptable risks. "Unless technologies to better manage the environmental impacts of agriculture are incorporated into profitable farming systems, then adoption is likely to be slow and returns from investments will be low. By emphasising technology packages profitable to farmers, the RDCs are more likely to deliver on the environment than the RAA," argued Dr Mullen.
"Public funding of the RDCs must be continued to ensure better environmental and social outcomes for all Australians."