Two freezers full of faeces from domestic dogs may seem sufficient for the average animal lover but not for Charles Sturt University (CSU) researcher Dr David Jenkins.
"I have found farmers are very enthusiastic about our research into intestinal worms in wild and domestic dogs but that enthusiasm often fades rapidly when I ask them to collect samples of their dog's faeces for my project," Dr Jenkins said.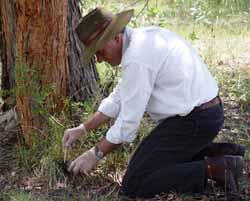 In a study funded by Novartis Animal Healthy Australasia Pty Ltd, Dr Jenkins is testing rural and semi rural dogs for all species of intestinal worms and mapping the distribution of hydatid tapeworm infection in these dogs.
"Hydatid tapeworms or Echinococcus granulosus are of great interest because animals and people can be infected by theirs eggs leading to major health problems and sometimes death," said Dr Jenkins.
Back to the freezer…Dr Jenkins has tested 1 236 dog faeces samples, firstly to find and identify worm eggs and also to screen for hydatid tapeworm corproantigens, a substance released into the faeces from the outer layer of worms.
"While infections from worms such as hookworm, whipworm and roundworm are also of public health importance, it is especially important to know if dogs are infected with hydatid tapeworms because of their major health impacts.
"One of the challenges in our research is in identifying hydatid tapeworm eggs as they look exactly the same as eggs from other tapeworm species in dogs.
"Controlling the hydatid tapeworm is complicated as the parasite is now common in wild dogs, kangaroos and wallabies. Domestic dogs can become infected with hydatid tapeworms from eating kangaroo or wallaby offal and if wild dogs defecate in sheep paddocks sheep can become infected with hydatid disease," Dr Jenkins said.
People living on small rural blocks, in semi rural communities or urban areas who wish to have their dogs tested for intestinal worms for free should contact Dr Jenkins on 02 6933 4179 or send an
email.