Four Charles Sturt University (CSU) students have received prestigious 2015 Horizon Scholarships.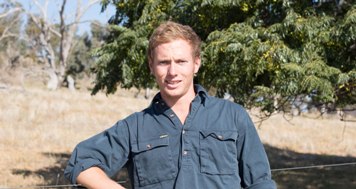 An initiative of the Rural Industries Research Development Corporation (RIRDC), the scholarship program supports the next generation of agricultural leaders.
The 13 recipients this year included three agricultural science students and one veterinary science student from CSU in Wagga Wagga.
In partnership with industry sponsors, the scholarship program provides recipients with $5 000 per year for the duration of their degree, professional development workshops and mentoring, annual industry work placements and opportunities to network and gain knowledge at a range of industry events.
Head of CSU's School of Agricultural and Wine Sciences Professor Gavin Ash said, "It's wonderful to see these high-achieving students recognised as part of the Horizon Scholarship Program and it's a reflection on the quality of agricultural education provided at Charles Sturt University.
"The University strives to attract and nurture the best and brightest agriculture students, helping them to achieve their full potential."
The successful CSU students include:
- Bachelor of Agricultural Science student from Hamilton in Victoria Mr Matthew Champness who is sponsored by Grains Research and Development Corporation (GRDC)
- Bachelor of Agricultural Science, student from Temora Mr Nicholas Grant from Temora, who is also sponsored by GRDC
- Bachelor of Agricultural Science student Mr Jack McIntosh from Bathurst, sponsored by RIRDC
- Bachelor of Veterinary Biology/Bachelor of Veterinary Science student Ms Amy Munro from Cumnock, also sponsored by RIRDC.
Read more about Horizon Scholarships here.