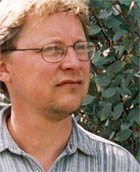 A Charles Sturt University (CSU) academic has likened any plans to sell off Travelling Stock Reserves (TSRs) to "selling off NSW's Crown jewels in a garage sale".
Dr Peter Spooner, from CSU's
Institute for Land, Water and Society
(ILWS) is one of a concerned group of scientists who are sending a letter to the Premiers of NSW and Queensland in a bid to offset recommendations outlined in a recent independent review of the Rural Land Protection Boards (RLPBs) in both states.
One recommendation in the NSW review is that economically unviable TSRs, which are managed by RLPBs, be ceded back to the NSW Department of Lands.
"This has raised the alarm bells amongst the scientific community, land managers, farmers and many other concerned individuals throughout NSW," said Dr Spooner. "TSRs are currently a public asset and are important for grazing, biodiversity, cultural heritage, recreation, aesthetics and many other values."
Dr Spooner said the reserves also play an important role in helping native species disperse and survive as they respond to the effects of climate change.
"It is thought that in response to the impacts of climate change, large scale movements of native species are going to occur across the landscape," said Dr Spooner. "If asked how you would manage for the effects of climate change and assist species movements, you would create a corridor network or links between the various conservation reserves and other patches of native vegetation scattered throughout rural areas of NSW."
Dr Spooner said that, rather fortuitously, Australia's extensive network of stock routes and reserves already provide these corridors and are recognised world-wide for their biodiversity values. "Selling off segments of the TSR network could be perceived as a key threat to how we deal with the impacts of climate change in the future."
"With rising fuel prices, we may also see a revitalisation of past droving practices to transport stock to feed our growing human populations. So for many reasons, TSRs should be retained as a public asset," Dr Spooner said.
"Before transferring the management of TSRs from RLPBs, we think it is important that TSRs be retained in public hands until the multiple use values of TSRs be fully assessed and efforts made towards building joint management agreements with the RLPBs and other agencies to maintain and improve these values in perpetuity."
Dr Spooner said ILWS supported the Stock Routes Coalition, which includes the National Parks Associations of NSW and Queensland, the Wildlife Preservation Society of Queensland, Birds Australia, the Droving and Stock Routes Association, World Wide Fund for Nature Australia, and many Landcare and other similar groups.
Concerned scientists have written an open letter - signed by leading ecologist Professor Hugh Possingham, from the University of Queensland - that will be sent to both state governments.
"One issue we will highlight is that grazing and biodiversity values can exist side by side," Dr Spooner said.
"The reason that many TSR reserves are in good condition is because of the low or intermittent grazing regime they have had in the past. However, if any TSRs were to be sold to private owners, then their grazing regime would undoubtedly change – where grazing could become much more intense and continuous, and as a result, their biodiversity values could be degraded or irreplaceably destroyed."
Dr Spooner said scientists would like to see greater funding and other support provided to assist the RLPBs to develop the TSR network as a formal multi-use conservation network, with assistance from relevant agencies such as the NSW Department of Environment and Climate Change and regional CMAs.