Sheep producers are being asked to help researchers from Charles Sturt University (CSU) find out more about sheep measles, a widespread problem that imposes avoidable costs on the meat industry.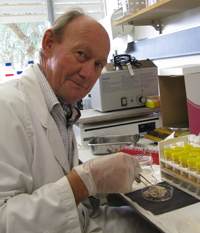 Dr David Jenkins and Dr Jan Lievaart from CSU's
School of Animal and Veterinary Sciences
aim to find out more about the life cycle of the sheep measles parasite and examine the financial cost to the industry.
"Sheep measles is caused by infection with the larval stage of a dog tapeworm, Taenia ovis," Dr Jenkins said. "Sheep become infected through accidentally eating the tapeworm eggs while grazing. These eggs hatch in their intestine releasing microscopic parasites that grow into sheep measles cysts in the muscles."
He said the infection does not pose a problem for public health, but the downgraded and condemned meat is a cost for abattoirs and a potential trade barrier.
Data from abattoir surveillance in the National Sheep Health Monitoring Program has been used to select a sample of sheep producers whose flocks are either infected with sheep measles or free of the parasite.
Dr Jenkins is urging producers to take the time to fill out the simple survey, which should arrive in the mail during April.
"We want to find out about the risk factors for the transmission of the parasite such as dog maintenance and feeding, worm control in dogs, along with the presence of foxes and wild dogs on the property," he said. "The information collected through this survey will help us develop an education program to improve on-farm control.
"Sheep measles is transmitted to sheep mainly by domestic dogs, so producers can assist to reduce the spread of the disease by regularly worming their dogs for tapeworm and freezing sheep meat for a minimum of two weeks, to kill the parasite, before it is fed to dogs.
"Reducing the spread of this parasite will benefit the industry by delivering higher returns to processors and producers," Dr Jenkins said.
The project has been funded by Meat and Livestock Australia (MLA).