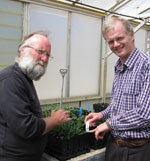 A native plant nursery is to be established at the
EH Graham Centre for Agricultural Innovation
at Charles Sturt University (CSU) in Wagga Wagga, as part of a demonstration site for sustainable farming practices.
The nursery has received $15 000 in funding from the CSU Sustainability Grant Program, administered by
CSU Green
.
CSU Green communications officer, Ms Nicole Maher, said the grants offer a great opportunity for the CSU community to implement creative and interesting ideas to enhance the sustainability of the University.
"By providing material for biodiversity plantings across Charles Sturt University in Wagga Wagga, the native plant nursery will help the University meet its goal of having 20 per cent of all its land used to increase biodiversity by 2015," she said.
The nursery will also play a key role in research into the potential benefits of native shrubs and herbaceous legumes to farming systems.
Research at the Graham Centre by Dr Peter Orchard from the NSW Department of Primary Industries and Dr Geoffrey Burrows from the
CSU School of Agricultural and Wine Sciences
, is examining the role of these species in developing multi-use landscapes.
"Native legumes are an important but almost entirely neglected part of ecosystems in the south-west slopes," Dr Burrows said. "This project will hopefully raise their profile for various types of restoration and revegetation projects."
Dr Orchard believes these legumes have the potential to provide fodder, shelter, nitrogen-fixation and ground cover in lower-input parts of the landscape.
"The nursery will expand the range of species to not just legumes but to those species with a biodiversity, aesthetic, and potential commercial value," he said. "Local indigenous knowledge will be critical to determining the species collected."
Seeds from up to 60 different species will be collected over spring and summer to be grown under glasshouse conditions and assessed for adaptation to salinity, acidity and heat.
They will be transplanted to the Graham Centre field site, at the corner of Prices and Coolamon Roads, next autumn.
Graham Centre Director, Professor Deirdre Lemerle, said the 15 hectare field site is undergoing a transformation with the establishment of a wetland in partnership with the Murrumbidgee Catchment Management Authority.
"The site is already home to many of our sustainable agricultural projects and we hope to demonstrate how useful native plant species can be for the environment and also for production," she said. "It will also be used as a teaching resource for school children, university students and landscape managers."