An expert in animal production at Charles Sturt University (CSU) has added his voice to criticism of Coles' decision to ban growth promotants (HGP) in the beef sold in its supermarkets.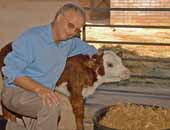 Professor Peter Wynn is one of 35 Australian scientists to support the campaign critical of Coles' move, warning it could lead to loss of production for farmers, particularly in feedlots.
"The suggestion by Coles is that Australian farmers who use HGP on their cattle are producing a lower quality product which is somehow unsafe for human consumption," Professor Wynn said. "Such insinuations are fiction and not supported by science."
"The hormones used in treated cattle are naturally-occurring and in much lower levels than in other food products such as eggs or soymilk.
"Given Coles' market share, its anti-HGP move could force losses in production efficiency of up to 15 per cent in feedlot and grass-fed beef enterprises.
"Coles' move is simply about marketing and not in the interests of producers or consumers who must have access to safe and affordable food.
"The use of HGP is ethical, an efficient method of farming and safe."
Professor Wynn from the
School of Animal and Veterinary Sciences
at CSU in Wagga Wagga joined the 35 Australian scientists in signing a recent newspaper advertisement, organised by Adjunct Professor Ian Lean from the University of Sydney.