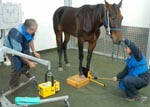 Veterinary science students at Charles Sturt University (CSU) are starting 2012 on a high by hosting a conference for 80 students from universities in Australia and New Zealand.
For the first time, the Australasian Veterinary Student Conference will be held in regional Australia from Sunday 15 January to Sunday 22 January at CSU in Wagga Wagga.
The conference is an annual event that includes a series of lectures and practical workshops, as well as social activities.
"This is the first time the Australasian Veterinary Student Conference has been held in rural Australia," said one of the conference organisers and
veterinary science
student Ms Sally Clarke. "In keeping with the spirit of our veterinary science program, the conference has a rural theme. The conference aims to enhance student skills and knowledge, as well as showing city students the benefits of rural life and practice, in the hope they will consider professional practice in rural areas."
Lectures hosted by CSU academics and representatives of conference supporters, such as NSW Department of Primary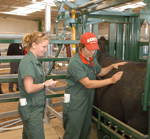 Industries and Meat and Livestock Australia, will cover topics including northern beef production, live exports, snake bites, emergency medicine, sheep worm management and dealing with difficult clients.
There is also an array of interactive, hands-on workshops making the most of CSU's modern veterinary facilities, including the
Veterinary Pre-Clinical Centre
, the
Veterinary Clinical Centre
and the sheep and cattle yards.
The
School of Animal and Veterinary Sciences
at CSU in Wagga Wagga is proud to be hosting veterinary students from across the country to discuss key issues of importance to Australia's animal industries.
The School began its six-year veterinary science program in 2005 in response to the need for more veterinarians in regional and rural Australia. The first 30
Bachelor of Veterinary Biology/ Veterinary Science
graduates entered the workforce in 2010 with a further 37 last year.
The Dean of the University's
Faculty of Science
Professor Nick Klomp
will open the conference from 8.35am, Monday 16 January in the Graham Building lecture theatre , (building 229, Pugsley Place off Pine Gully Road, near car park 14) CSU in Wagga Wagga.
Read more veterinary science news on CSU News
here
.