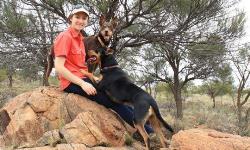 Charles Sturt University (CSU) student Ms Anika Molesworth has been named 2015 Young Farmer of the Year, but she couldn't celebrate right away – she was presenting at a farming and heritage conservation conference in England when she heard the news.
The CSU postgraduate student was given the top honour at the ABC Rural and Kondinin group annual awards on Wednesday 9 September. She was also a finalist in the Agricultural Student of the Year category.
Ms Molesworth is doing a Master of Sustainable Agriculture through CSU online. She grew up in Melbourne, but her interest in agriculture was sparked by the family farming business at Broken Hill in far western NSW.
After completing a Bachelor of Science with CSU in 2010, Ms Molesworth worked in agribusiness with a bank. She now manages the family's 4 000 hectare Dorper sheep property in Broken Hill, where she lives her passion for sustainable farming.
Ms Molesworth has also worked as research assistant on a CSU and Australian Centre for International Agricultural Research (ACIAR) project in southern Laos.
"For an elective in my studies, International Practical Experience, I approached Charles Sturt University researchers Professor Len Wade and Dr Tamara Jackson," she said.
"They offered me a volunteer position for four months until March this year assisting on their project."
The project seeks to develop crop-livestock systems platforms for capacity building, commercialisation and community learning in a region in Laos troubled by food scarcity and poverty.
Ms Molesworth said, "I worked in the Savannkhet office in southern Laos, and seeing there was a lot for me to learn there, I decided to focus my thesis for my Masters on Laos farming systems.
"I returned to Laos for another three weeks in July to complete farmer and extension officer surveys.
"My thesis topic is on crop residues for livestock fodder in integrated crop-livestock systems, in the southern provinces of Savannakhet and Champasak."
On her Young Farmer of the Year award, Ms Molesworth said, "I am so passionate about agriculture, both in Australia and internationally, so it's quite humbling to be recognised for my work in this industry.
"Charles Sturt University has provided me with theoretical knowledge that I have then put into practice on the sheep station at Broken Hill.
"My postgraduate studies in sustainable agriculture has also opened the door to international agricultural research and development - a field I hope to pursue in the future.
"It also gave me the knowledge to put together an online platform called Climate Wise Agriculture – where research on climate change is shared as it affects agriculture, and adaptation and mitigation strategies being adopted by farmers all over the world.
"Unfortunately, I missed the awards night in Sydney as I was in Cambridge to present at the biennial conference for the global body of National Trusts, the International National Trusts Organisation.
"I presented on the Organisation's Sustainable Farms project involving farming properties owned by National Trusts around the world.
"I look forward to my return to Australia to celebrate this great honour."