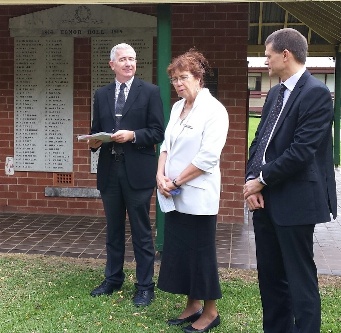 A PhD researcher has explored the contribution of students and staff from a predecessor institution of Charles Sturt University (CSU) who served in World War One.
Mr Sam Malloy is a sessional academic in the CSU School of Humanities and Social Sciences who has investigated the 1914-1918 Honor Roll on an historic building at CSU in Bathurst which was part of what was then the Bathurst Experiment Farm established in 1895.
Mr Malloy is well known in Bathurst for his work to enhance the city's historic sites, including the Chifley Home and Education Centre in Busby Street, Bathurst. He addressed a gathering of CSU staff and students at a pre-Anzac Day commemoration at the University last week.
"This Honor Roll is dedicated to 139 young men who served in the First World War, of whom 21 died," he told those at the commemoration."
"These men are not only special because of what they did as patriotic young Australians serving in a war so far away, but they lived and worked where we stand now, as students and staff of the old Bathurst Experiment Farm which later became the Bathurst Agricultural Research Station."
Mr Malloy noted that as students, these men studied subjects that included agriculture, orchard horticulture, veterinary science, sheep and wool, dairy science, botany, chemistry, soil physics and book-keeping.
Prior to being installed on the plain brick wall of the Cow Shed (building 1298), the Honor Roll use to hang in the Experiment Farm's old dining-room, which is now the Ponton Theatre (building 1434). It was unveiled there on 4 July 1923, when the war still would have been a raw memory in the minds of students and staff. When use of the dining room changed some years later, the Honor Roll was removed and stored away, and somewhat forgotten.
It was then-history lecturer Dr Robin McLachlan who found the neglected Honor Roll in an old Farm building when he was working on the Farm history. He then devised a student 'public history' class project to re-instate the marble tablet to the present location on campus in 1995 to mark the centenary of the Bathurst Agricultural Research Station, the former Bathurst Experiment Farm.
"As the morning sun shines on this Honor Roll, we cannot help but wonder what became of these young men who walked past this building in the years leading up to 1915," Mr Malloy said. "We do know, though, that the asterisks beside the names of particular men meant that 21 of them died in the war and never returned to this place.
"One particular name inscribed on this memorial is that of Private Horace Walker. He was working as an 'experimentalist' here on the Farm when war broke out in August 1914. The following year he enlisted in the AIF and was part of the ill-fated Gallipoli campaign. At age 24, he was among the 2 000 Australians killed at Lone Pine.
"This memorial is a poignant reminder of all who served and the relatively carefree lives some once led, here, at the former Bathurst Experiment Farm."