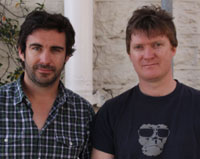 Two graduates of Charles Sturt University (CSU) who met at its
School of Communication
at Bathurst have been honoured by the Australian Writers' Guild (AWG) at its annual AWGIE award presentations on Friday 28 September.
Mr Phil Lloyd, who graduated from the
theatre/media course
, and Mr Trent O'Donnell, who graduated from the
journalism course
, both in 1996, received the award for the category TV Comedy - Situation or Narrative, for episode three of
Review with Myles Barlow
, a satirical program that lampoons the role of the reviewer.
Mr Lloyd, who also plays the character of reviewer Myles Barlow, said, "I'm very fond of my time at Charles Sturt University. I probably wouldn't be doing what I am if it wasn't for the theatre/media course. One of its great strengths is that it exposes you to all aspects of the broad entertainment industry, enabling graduates to work across theatre, TV and film if they choose.
"Trent and I were stunned when the first short film we made while at uni, C'est La Vie, managed to get into the Kaleidoscope Short Film Festival at Metro Screen in Sydney.

"It didn't win, but it did ignite a passion for making short films as a fun, creative outlet. We went on to make over a dozen more, with some of them screening in various film festivals, including Tropfest."
Later the pair moved on to television – Trent as a writer, director and director of photography of comedy and TV commercials, and Phil as a writer and actor on shows such as Home and Away and The Big Bite.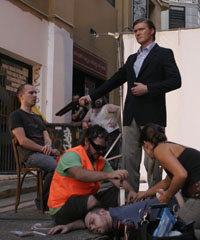 "
Review with Myles Barlow
was an idea we had been kicking around for a few years," Mr Lloyd said.
"After several knock-backs from various networks, we teamed up with Starchild Productions in 2006 and made our own pilot episodes. Off the strength of these, the ABC commissioned six episodes, and the resultant Review with Myles Barlow premiered on ABC2 in October of 2008 and later re-screened on ABC1."
Mr Jerry Boland, lecturer in theatre/media at the CSU School of Communication at Bathurst, said, "The thing about Phil Lloyd, as an undergraduate, was that he sort of 'flew under the radar' in relation to some of the more brash personalities of his era; and yet he was always such a fantastic addition to any production because he was punctual, positive, and present in terms of the ways in which he contributed his keen analytical intelligence and wicked sense of humour to any creative enterprise. People liked working with him."
Mr Lloyd and Mr O'Donnell are now working on a second series of
Review with Myles Barlow
.