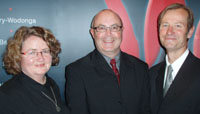 In a first for Charles Sturt University (CSU), a husband and wife have received individual awards for their separate outstanding work in the same Faculty and School at the University.
Brett and Margaret Van Heekeren, who lecture and research in different fields at the
School of Communication
at CSU at Bathurst, both recently received the Faculty of Arts Award for Academic Excellence (Teaching and Professional Excellence) from the Dean of the
Faculty of Arts
, Professor Anthony Cahalan.
"Brett and Margaret have performed outstandingly in learning and teaching, research, professional activity, and university and community service," said Professor Cahalan. "They are committed to innovation in teaching and contributing to their professions while also enrolled in their own PhD studies. They are worthy recipients of their awards."
Mrs Van Heekeren
, who lecturers in
journalism
, was recognised for her work in organising a national media conference held at CSU at Bathurst, her research publications in academic journals, and a public lecture she gave in April last year. The award also recognised her teaching, following evaluations from students.
"I was very surprised and honoured to receive the award, and the fact my husband won an award as well was a nice coincidence," said Mrs Van Heekeren.
"I have a wonderful work/life balance that enables me to do the research and teaching I love, but at the same time pick up my young children from school and spend time with them," she said. "I guess we both must be high achievers, although I never would have thought so before. We love our jobs at CSU and there are many other academics at the University doing what we do."
The award for
Mr Van Heekeren
, who is Course Coordinator for the
Bachelor of Communication (Commercial Radio)
and lecturer in
advertising
, acknowledged achievements such as his Australian Learning and Teaching Council (ALTC) award for teaching excellence, a University Teaching Fellowship, a University Learning and Teaching Scholarship and contributions to the 'Practice-based Learning' community both within and outside the University.
"I was absolutely delighted to receive the award, given that it was a complete surprise," Mr Van Heekeren said. "You just go about doing what you do and then something like this appears. I am surrounded by hard working and innovative colleagues and I have no idea what separates me from the rest. Margaret and I take our professions seriously and gain a lot of satisfaction from our professional and personal achievements."