* Fellowships enable arts practitioners to develop skills and engage audiences
* Regions to benefit from creative explorations in theatre and photography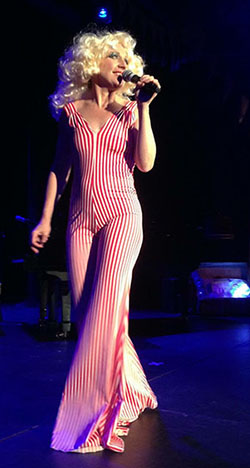 Two academics in the Charles Sturt University (CSU) School of Communication and Creative Industries have been awarded NSW Government Create NSW Fellowships.
The fellowships were awarded to theatre performer Dr Kate Smith in Bathurst and photography curator Dr James Farley in Wagga, and were announced at the recent ArtState Conference in Bathurst.
Dr Smith (pictured left, in performance), also known by her oft-times performance persona 'Rusty Nails', said her $30,000 Create NSW Creative Development Fellowship will support the evolution of her storytelling voice which she's developed over 20 years of theatre performance practice.
"The fellowship project will take this storytelling voice into the realm of podcast as performance, and as a tool through which to build community through ongoing story gathering workshops," Dr Smith said.
"The focus of my fellowship program will be a new project that explores the creation of performance works regionally, and combine podcasting and theatre making.
"My vision for my new project, titled smalltown WOMAN/country GIRL, is to create a global project that crafts regional stories into inspiring narratives that elevate women's voices and experience of regionality around the world.
"I aim to create a model that encourages diverse groups of women to use story as a tool to create community through shared experience.
"My mission is to create new works extending into non-live mediums speaking to the need to adapt my practice to ever-changing social trends and trends in media consumption - immediate, on-demand, and bespoke."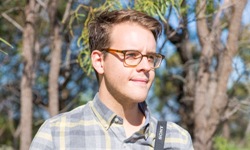 Dr Farley (pictured left) said his $5,000 Artist Support funding through the NSW Government's Arts and Cultural Development Program (ACDP) will enable him to undertake a twelve-month curatorial mentorship with Isobel Parker Philip, Curator of Photographs at The Art Gallery of New South Wales.
"As an emerging regionally-based curator, this funding will allow me to develop my practice under the mentorship of one of Australia's most significant curators at a leading national institution," Dr Farley said.
"Isobel Parker Philip's experience, insight and guidance over this twelve-month period will lead to a significant development in my own curatorial skills and practice.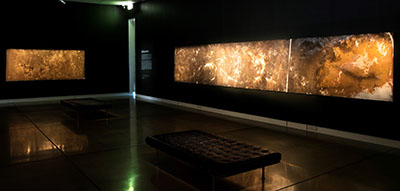 "It will also allow me to continue to develop a strong professional network to facilitate ongoing exchange between regional and metropolitan centres, through which I hope to continue promoting the value of regional voices in all local, national, and international dialogues."