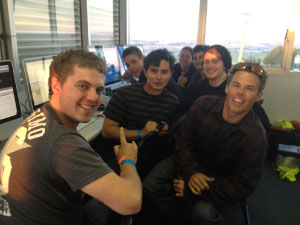 The high level of skills and speed seen at the recent Newton's Nation event in Bathurst weren't limited to the competitors, with students from Charles Sturt University's (CSU)
Bachelor of Arts (Television Production)
also scoring top marks.
Newton's Nation (NN) is a three-day international competition of extreme sports held at Mount Panorama, Bathurst. The event is broadcast live online via a You Tube Live Event channel for the world to see and the CSU students played a huge part in providing footage for up to 10 000 viewers each day.
CSU TV Production lecturer Pat Sproule traveled from Wagga Wagga along with a group of 16 students and two staff taking with them the CSU Outside Broadcast (OB) van. Joining them were three technical staff and four Communications students from CSU in Bathurst.
"In comparison to our normal productions, it was a particularly challenging outside broadcast," explained Mr Sproule. "Normally Mt Panorama is the territory of the big OB operators. Our group was split in two with one group operating the truck for live coverage of the downhill racing in skateboard and luge and the other producing highlights of other festival activities. A paddock at the top of the mountain was turned into a festival site with a big screen and stage. For that side of it we had a crew running field camera and editing. Material was then delivered to the truck for live broadcast during breaks in the downhill racing. Daily newsreel feeds were also sent out to network newsrooms."
Mr Sproule said the CSU team had never worked on anything like it before.
"The biggest thing we'd done was at a football field but this was rough terrain, long distances and with limited cable access. It was unfamiliar territory, with a team of people who hadn't worked together before and we were trouble-shooting a lot to start with but the team met the challenges head on and did a great job."
Mr Dave Keam, who worked as the media officer at the event and runs online action sports channel
Skuff TV
, said the team went above and beyond his expectations. "I really pushed them as far as making sure the live stream was happening on time, meeting deadlines for news feeds to networks, getting clips online at the end of each day and pre-cutting for fillers to use in the OB. They definitely weren't bored!"
Student Mr Blake Castle believes he benefited from the exposure to such a large production. "It was an awesome experience. Having the OB truck has allowed us to do some big scale events. We'd just filmed comedian Ross Noble and then headed to Mount Panorama where we got to stream our footage live to thousands of people a day using industry standard equipment. One of the areas I'm interested in is OB and working alongside other media people like Dave at Skuff TV was a great experience."