Charles Sturt University (CSU) graduate Ms Gillian Ash is breaking down barriers in the male-dominated world of fraud and financial investigation in the Caribbean.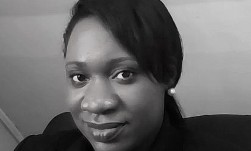 Ms Ash has completed a Master of Arts in fraud and financial investigation by distance education and is climbing the corporate ladder with distinction.
"Prior to studying at Charles Sturt University I was a tax monitoring officer at our Trinidad and Tobago Inland Revenue Division. I excelled in the programme and was challenged to seek higher positions. I moved from being a tax monitoring officer to an investigator and then an anti-money laundering compliance officer," Ms Ash said.
"As a result of my studies I am one of the directors and owners of the Global Forensic Institute and also a part time lecturer at a local university."
The 30-year-old completed the University's three year distance education program and also attended a 2013 International Study tour in Canada.
"My study challenged my perspective of fraud and risk management and also provided an international experience that is respected regionally and internationally. As a direct result of my degree I have been able to secure great consultancy contracts for the company and this has given my profile and career the assertiveness that was needed in a competitive environment."
The fraud investigation fraternity is mainly male dominated within the Caribbean, Ms Ash said.
"My perseverance in this field changes the way our region views fraud investigators. As a director I strategically set the vision and steer the direction of the company. Additionally, I consult on fraud and anti-money laundering cases and represent the fraud fraternity in various national and regional conferences and meetings. I was also recently asked to sit on our local Association of Certified Fraud Examiners, ACFE chapter as a director of government affairs," Ms Ash said.
The ACFE is the world's largest anti-fraud organisation and it provides anti-fraud training education and certification.
Ms Ash said she wanted to commend CSU for the innovative, challenging and interactive experience she received while studying.
"Distance learning sometimes can carry the perception of mediocrity and passivity," Ms Ash said.
"I however must say nothing could have been further from the truth. Charles Sturt University has expanded my vision and perspective not only in relation to learning but in my field of study.
"As a citizen of Trinidad and Tobago, my study at Charles Sturt University has earned me a space in the Caribbean to be heralded as the new face of fraud investigations."