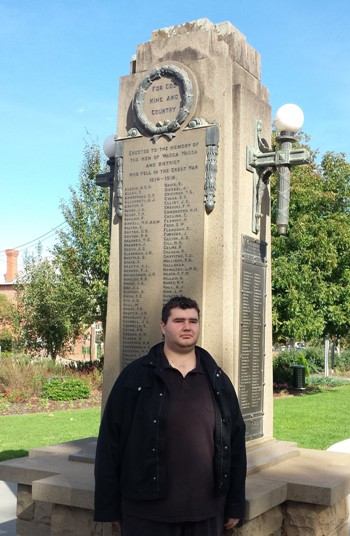 On the 100th anniversary of the Anzac landings at Gallipoli, Charles Sturt University (CSU) television production students will capture the commemorative march and service in Wagga Wagga.
A team of almost 30 students will use eight cameras and the University's Outside Broadcast (OB) van to broadcast the event to two large screens in the city's Victory Memorial Gardens.
The footage gathered from the ceremony and service will also be provided to the Wagga Wagga RSL Sub-Branch.
One of the broadcast's two producers is Mr Daniel Lilly, a final year Bachelor Stage and Screen (Television Production) in the School of Communication and Creative Industries at CSU in Wagga Wagga.
"I am really excited about filming the ceremony given it is 100 years since the landings on Gallipoli. I have always admired the spirit of the Anzacs. I have attended an Anzac Day service every year since I was born," said Mr Lilly, originally from Russell Island, southeast of Brisbane."
The students will use the University's high definition OB truck to coordinate and stream footage from four cameras along the route of the march.
Bachelor Stage and Screen (Television Production) student Ms Ellen Marabani, originally from Sydney, is pleased to be part of the team documenting the event.
"In recording the 100 year commemoration of the Anzac landings we are able to provide the footage of the march and service back to the Wagga Wagga RSL Sub-Branch," she said. "It's great that we're able to give something back to those who served and I think it's important that there's some way of holding on to the day for the future."
Lecturer in television production, Mr Matthew Olsen said, "It really goes without saying how significant the 2015 Anzac Day ceremonies are for all Australians.
"It is an honour for Charles Sturt University students to participate in the local event."
The Anzac Day march in Wagga Wagga starts at 10.30am on Saturday 25 April. It will proceed down the city's main street to the Cenotaph for a wreath laying service in the Victory Memorial Gardens. At the service, an ooccasional address will be delivered by Colonel Steve Jobson, Commandant of the Army Recruit Training Centre Kapooka.