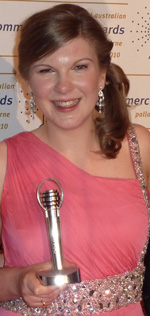 A Charles Sturt University (CSU) student has won a national award at the 2010 Australian Commercial Radio Awards (ACRA) ceremony on Saturday 16 October following the industry conference on Friday 15 October in Melbourne.
Ms Stephanie Borys, a third year
journalism
student at the
School of Communication and Creative Industries
in Bathurst, won the Brian White Memorial Award in the Australia-wide non-metropolitan category for her coverage of the controversy surrounding the closure of St Vincent's Hospital in Bathurst in 2009.
Ms Borys, who presents the weekday Morning Wireless Program on Bathurst radio station 2BS, said, "I feel honoured to have received such an award at the age of 21, and what I have appreciated most at Charles Sturt University is the ability to work and study a degree full-time with academic staff who have been so accommodating as I juggled roles. I'm not aware of any other university where students have such easy access to staff who are willing to assist in ensuring I succeed in my degree and career."
Ms Borys started work experience at 2BS in her first year at the University (2008) and half way through 2009 started as on-air presenter of the 'Talk of the Town' segment in the afternoon. In 2010 she was asked to host the Morning Wireless Program. She also worked at the local community radio station, 2MCE, on a current affairs program team where she says she was allowed to make mistakes and learn from them.
"I will never forget on my first day of university a lecturer saying that only a third of us would succeed in the industry," Ms Borys said. "That made me even more determined to do as much as possible to ensure I would be in that third. I immediately looked into whatever opportunities were available for me in Bathurst and I stumbled upon Bathurst Broadcasters where I then completed work experience for over a year and half before being given a chance on-air.
"Bathurst Broadcasters always has been, and continues to be, a supportive workplace. I am so thankful that I was given the opportunity last year to host the Afternoon Show, and to be offered the Morning Show this year. It is an honour to work with the team at 2BS and the owner, the one and only Mr Ron Camplin, a man to be admired, whose suggestions and support I value."
Speaking about her award-winning coverage of the St Vincent's Hospital closure, Ms Borys said, "Listening is a powerful tool if used correctly. I believe that to get the whole story and to report to a high standard, one needs to talk, listen and question a number of people. Less than a month into my role as 2BS Morning Wireless presenter, news broke that Bathurst's only private hospital was set to close, so I attempted to achieve this high standard by talking to doctors, nurses, family members, politicians from local to federal levels, and I attended meetings and rallies."
Ms Kay Nankervis, lecturer in journalism at the CSU School of Communication and Creative Industries, said it is no surprise to her that Ms Borys won this prestigious industry award even before she completed her journalism studies.
"Stephanie is a great example of how Charles Sturt University journalism students engage professionally at an early stage in their degree and, as a result, are widely sought by the industry while they are still students and when they graduate. Throughout her degree Stephanie has proved herself to be capable, motivated and passionate about revealing information to the public. She richly deserves her new status as an award-winning broadcaster and journalist."
During her first year of study at CSU, Ms Borys was also awarded the Channel Seven Scholarship for the three years of her course enabling her to complete work experience with the Channel Seven news team in Sydney.