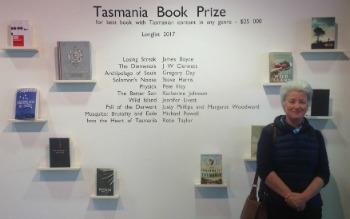 The work of two Charles Sturt University (CSU) academics has been long-listed from nominations for two prestigious Tasmanian literary awards to be announced November 2017.
Associate Professor of Design in the CSU School of Communication and Creative Industries in Wagga Wagga, Margaret Woodward (pictured), has two recent books nominated in two categories of the 2017 Tasmanian Premier's Literary Prizes.
The books are Crocoite by Professor Woodward which is nominated for the Margaret Scott Prize, and Fall of the Derwent (2016) by Professor Woodward and Dr Justy Phillips, a casual lecturer at CSU, which has been long-listed for the $25 000 Tasmania Book Prize awarded for the best book with Tasmanian content in any genre.
Both books are creative works components of research projects that investigate geology, history and riverine systems.
Professor Woodward, who is also a member of CSU's Institute for Land, Water and Society (ILWS), is the only author to be selected for both the Margaret Scott Prize (for Crocoite) for the best book by a Tasmanian writer, and the Tasmania Book Prize. Each long list for the prizes includes 10 books selected from over 100 entries.
Crocoite is the first title of a 'slow-publishing' artwork, Lost Rocks (2017–21) to be published through their collaborative imprimatur, A Published Event. Professor Woodward and Dr Phillips have developed A Published Event as a unique research approach combining publishing with art practice to generate literary works that encompass the processes of writing, book design, performance, and exhibition.
Over five years Professor Woodward and Dr Phillips will publish as part of their Lost Rocks collection a library of 40 books by 40 contemporary national and international artists, inspired by a discarded rock specimen board that has 40 of its 52 specimens missing. Each contributor to the project is invited to select a missing specimen and recompose the rock board with a short literary work and a slow publishing library collection.
Professor Woodward said, "With both projects conceived of as artworks in the relatively new field of publishing as art practice, we are delighted that the writing from these two works have received recognition as literary works".
The Lost Rocks project, under which Crocoite is published, has received international recognition through an invitation to participate in a month-long residency called 'Geologic Time' at the Banff International Curatorial Institute (BICI). The residency is led by Barcelona-based curators Latitudes.
Professor Woodward and Dr Phillips will join eight international artists for the residency which provides time and space for researchers, curators, critics, and cultural writers to develop innovative ideas. It is an extension of the exhibition 4.543 Billion. The matter of matter, currently showing at the Museum of Contemporary Art in Bordeaux, France.