It has become a right of passage for television production students at Charles Sturt University (CSU) as they test their learning in the 'real' world.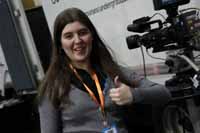 For five days in July, five staff and 62 students from the
Bachelor of Stage & Screen (Television Production)
program at CSU in Wagga Wagga attended the
Society of Motion Picture and Television Engineers (SMPTE)
Conference and Exhibition in Sydney.
This year's event broke previous attendance records with more than 10,000 attendees from throughout the broadcast and creative industries.
The CSU attendees took the University's Outside Broadcast truck and several field production units with them to the Sydney Exhibition Centre at Darling Harbour to experience working 'live'.
Associate Head of the
School of Communication and Creative Industries
at CSU in Wagga Wagga, Mr Patrick Sproule said, "Our week-long trip had several aims. Charles Sturt University was an official exhibitor at the biennial event and we produced a large quantity of live and near-live video material for online delivery during the Conference."
In fact, the CSU students, in collaboration with two other institutions, produced over 50 news packages and three x 30-minute live programs and one 75-minute live program. Watch
here
. These were streamed around the clock from the Outside Broadcast van via collaboration with Telstra, Ooyala and Origin Digital.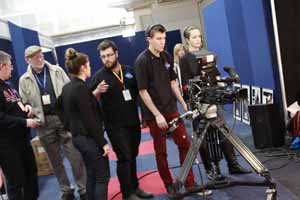 "Several visitors to our exhibit discussed the possibility of engaging with students on projects, hiring students or engaging them for internships and guest lecture opportunities."
"It was also wonderful to see over 50 of our graduates who visited our exhibit across the week and updated us on their current place in the broadcast industry.
While in Sydney, students toured the ABC, Foxtel, Fox Sports, and Channel 10. A group of students went to a live broadcast of The Back Page at Fox Sports and met with members of the production team.


"Also emerging from other networking activities with industry representatives was two offers of employment to third and final year television production students.
"I know how good our television productions students are, but it is always reassuring to have the industry views."
"The Executive Director of SMPTE, Barbara Lange attended the SMPTE Australia 2013 from Los Angeles. She noted that student involvement in the event was a highlight for her.
"Praise for our students' involvement and professionalism and facilities have also streamed in from SMPTE directors, exhibitors and other attendees."


Executive Dean of the University's Faculty of Arts, Professor Jennifer McKinnon is also impressed.
"It's especially great to see this level of student involvement, learning and development."