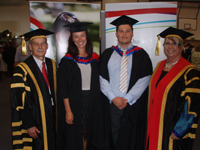 It's not everyday that a brother and sister graduate together, but that's a highlight of the Charles Sturt University (CSU)
Faculty of Business
graduation ceremonies on Friday 16 December in Bathurst.
Another distinction for Alexandra is that The Sydney Morning Herald has been following her education progress since they first featured her on the front page on Friday 5 February 1988 when she started school as a five-year-old.
Ms Clancy presently works as a business analyst with Citibank, and says her MBA was designed to support and advance her career in the finance and banking industry.
"Studying my MBA by distance was the right decision for me," Ms Clancy said. "It gave me the flexibility to study at my own pace, while still receiving support from the faculty. I think by the time you reach postgraduate study, time is the biggest factor and for a degree that centres around research, studying by distance makes perfect sense. While I have no immediate plans for further study, I wouldn't rule out studying for a doctorate in the future."
Mr Jared Clancy works as a project manager for Optus Mobile.
"I thoroughly enjoyed the MBA program at Charles Sturt University," he said. "I found the lecturers and administration staff very helpful and the course work interesting and relevant. Our father, Peter, did the CSU Master of Business (Industrial Relations) and graduated in 2008."