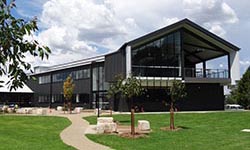 The architect firm ThomsonAdsett has been recognised at this year's NSW Architecture Awards for their work on Charles Sturt University's (CSU) Engineering building in Bathurst.
At the 2017 NSW Architecture Awards, ThomsonAdsett won an award in the Educational Architecture category from the NSW branch of Australian Institute of Architects for the University's purpose built complex for its engineering program.
ThomsonAdsett also received a Commendation in the Sustainable Architecture category for the same design. It brings to four the number of awards the CSU Engineering building has received for its design and construction.
The competition jury stated that the Engineering building fused, 'the pedagogical aspirations of its educators with the architecture, to collectively deliver new tertiary teaching experiences and a new understanding of how engineering is 'learnt' rather than 'taught'.'
The jury also noted the design clearly embraced, 'the notion of sustainability in a holistic manner, reusing existing buildings, integrating renewable energy, utilising best practice water systems and creating open and flexible interiors.'
ThomsonAdsett and the staff of CSU Engineering worked closely with the University's Division of Facilities Management to design an appropriately functional structure.
"Our architectural education team conceived the building as a character that engenders conversations and creates places for people", said Mr Graham Legerton, ThomsonAdsett's Group Director (Education and Communities).
The building houses a 'pitch' space, a maker studio, laboratories, a technological gallery, a 'Honeycomb of Learning' with clustered student and staff collaboration zones, and the Mount Panorama room - a meeting room with views of the iconic mountain at Bathurst.
"The design is a regional innovator of wider significance, supporting entrepreneurial thinking and the development of high-calibre engineers for employers," Mr Legerton said.
"This project shows the benefits of designing a curriculum and the associated learning environment at the same time."
[See more on the design process of the Engineering building here.]
Executive Director of the CSU Division of Facilities Management, Mr Stephen Butt said, "Charles Sturt University is extremely proud of these awards, especially given our competition.
"The jury's comments reflect the building's place in the University's broader strategy toward sustainable living, which is encapsulated in the philosophy of the Wiradjuri people of 'Yindyamarra Winhanganha', or 'the wisdom of respectfully knowing how to live well in a world worth living in'.
"As Australia's first carbon neutral University, we wanted an innovative design to create spaces that incorporated future teaching needs, sustainable building practices and clever technology that furthered this philosophy."
Director of CSU Engineering Professor Euan Lindsay said, "ThomsonAdsett has won well–deserved recognition for the way the firm has helped make our vision real.
"This building is an active character in the story of CSU Engineering. We wanted a workplace for our student engineers that would authentically reflect the environments they would encounter in their transition into the workplace."