* New three-year business degree offers broad business knowledge plus industry connections
* Intensive face-to-face classes on campus over three days, with lower cost accommodation options for shorter stays
* Workplace learning from the first year of study, with one-on-one career support and career planning/goal setting
* Co-curricular professional development masterclass workshops delivered by careers service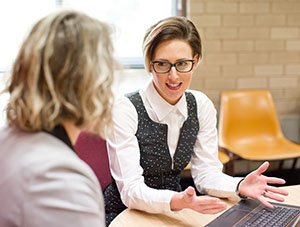 Charles Sturt University (CSU) has developed a new business degree which will generate new generalist business professionals with the scope to specialise in their areas of interest.
The Bachelor of Business (Industry Professional Practice) was developed with wide industry consultation and will be launched at an event at 6pm on Thursday 20 September at the Bathurst Memorial Entertainment Centre.
The launch will be attended by the Associate Dean Academic in the CSU Faculty of Business, Justice and Behavioural Sciences Associate Professor Jenny Kent, guest speaker CSU alumna and Director on the Board for NSW Business Chamber Ms Ellie Brown, industry representatives, and prospective students.
Professor Kent said, "Charles Sturt University has worked with industry and community to identify what regional business needs in the graduates it seeks.
"That consultation found that regional business is looking for generalist business professionals who have the scope to specialise in certain areas.
"As a result, we developed a new course with the subject content that was required to give graduates the broad business knowledge they need with added professional development through a masterclass series run by the University's career service.
"The course also includes one-on-one careers service support to help students set career goals and connect with industry as soon as they are ready. So they don't have to wait until they graduate to start their career."
"In order for students to complete the degree full-time, on campus we have timetabled subjects intensively over three days only and provided lower cost accommodation options for short stays," she said.
"I am delighted that we're now ready to launch the new course, and we want to re-engage with the community and industries that supported the initial industry workshops, and who will now benefit from graduates with the Bachelor of Business (Industry Professional Practice).
"I invite industry representatives and prospective students to attend the launch to learn about the benefits of studying this important new course."
CSU strategy support project manager Ms Julie Newham said, the guest speaker at the launch, Ms Ellie Brown, will speak about the skills needed for the future of business.
"Ms Brown will also discuss the challenges and opportunities she sees for regional business and young people in business in the future," she said.
"The launch of the new undergraduate business course is also an opportunity to thank the business community that was involved in the creation of this new course.
"It's also a great chance for prospective students to get a sense of industry needs and how the degree can set them up for a successful a career in business.
"Networking opportunities at the launch, in addition to a panel session around future proofing regional business will be of significant interest to the local business community and prospective students."