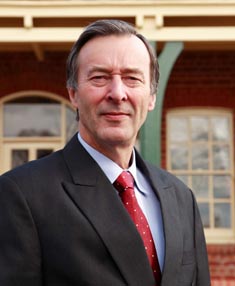 Service providers could be the real winners from a Free Trade Agreement (FTA) with China, according to Charles Sturt University (CSU) economist Professor John Hicks.
The Australian Government hopes to sign the agreement with its largest trading partner when the President of China,Mr Xi Jinping, visits Brisbane for the G20 talks this week.
Professor Hicks, from CSU's School of Accounting and Finance in Bathurst, has a research interest in economic growth in China and its impact on Australia.
"A free trade agreement is set to increase Australia's exports to China and there is likely to be a gain to the producers of those exports and therefore to Australia," Professor Hicks said.
"We know that Australia already exports a significant level of resources to China and this is likely to continue.
"The area in which Australia can make big gains is services, an area that is still highly protected in China.
"However, it is an area that will grow strongly into the future as China's services production is well below that of most developed economies, and demand for services will grow as Chinese incomes grow.
"An agreement may place Australia's service providers in an excellent position to take advantage of this."
Professor Hicks said when it comes to imports a free trade agreement with China could deliver positive and negative outcomes for consumers.
"Generally speaking, China is likely to be the low-cost producer of many of the goods and services we would want to import," he said.
"So to the extent that these goods are included in an agreement, Australians as a whole are likely to be better off.
"Producers of these goods and services in Australia will, of course, suffer from the increased competition, but overall the net gain to Australia is likely to be positive.
"If China is not the least-cost producer of any of these goods and services, for example if Bangladesh can produce clothing more cheaply than China, then we may to some extent switch our imports from Bangladesh to Chinese products. This could see Australians paying more for the privilege as a country."
Thus to the extent that China is not the least-cost producer, the FTA may not benefit us via increased imports."