Charles Sturt Senior Lecturer volunteers at Wandandian Kangaroo and Wallaby Sanctuary to save animals injured in bushfires
A Charles Sturt University academic has responded to a call from the wild and used her expertise to save animals injured in the recent bushfires.
Senior Lecturer in veterinary microbiology with the School of Animal and Veterinary Sciences in Wagga Wagga Dr Joanne Connolly spent a week volunteering at the Wandandian Kangaroo and Wallaby Sanctuary on the NSW South Coast.
Dr Connolly, who is also a veterinarian at Charles Sturt and member of the Graham Centre for Agricultural Innovation, has a tranquiliser dart gun licence and heard the sanctuary was looking for people with those qualifications to assist in treating animals that had been burnt or injured in the bushfires.
She quickly responded to the call and within two days was travelling to the sanctuary, which specialises in the treatment and rehabilitation of kangaroos, joeys and wallabies and is licensed under Wildlife Rescue South Coast.
Her skills were utilised to sedate animals that needed dressings changed, blood and urine samples taken, and pain management medicine administered.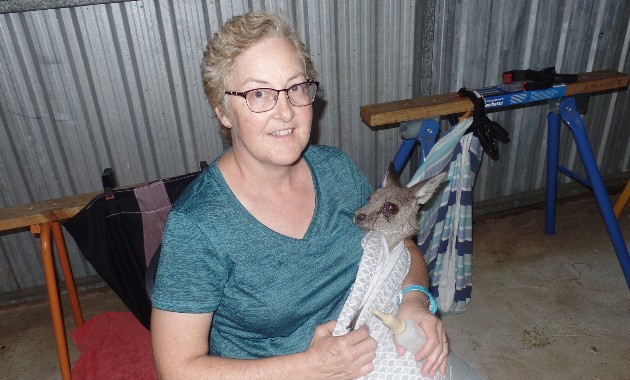 Dr Connolly was among volunteers from Australia, the United States, Canada, and New Zealand, and said it was "all hands on deck" during the "worldwide effort".
Volunteers are split between three rosters a day, and Dr Connolly not only used her existing skills, but was able to learn a lot about working in a wildlife sanctuary and wildlife rehabilitation.
Dr Connolly was involved in animal rescues, rearing orphans, sedation and anaesthesia, treating burnt or injured wildlife, and working up cases involving respiratory disease, seizures, and myopathy.
"I really enjoyed it … I met some amazing carers and volunteers," she said.

"I was able to learn some cutting-edge burn treatment modalities from visiting experts Jamie Peyton, Eric Johnston, and Michelle Oakley. It was very rewarding to be a part of the rescue and treatment effort."
Dr Connolly said there have been discussions at the University about adding a subject to the curriculum about wildlife health, rescue, stress and pain management, and supportive management aimed at animal release.
This would include legislation, health assessments, and treatments, as well as self-care and response in a natural disaster, such as a bushfire or a flood.
Dr Connolly hopes to continue working with the sanctuary to build capacity and to develop course ideas, and offer volunteering options to students.