*CSU women reflect on their career journeys and what they've learned
*International Women's Day an opportunity to celebrate diversity and strength
*Making a difference and enjoying life fuels work success
Rising from the bottom to the top: hard work and encouragement paves the way
Currently Deputy Vice-Chancellor (Students) at Charles Sturt University (CSU), Jenny Roberts' first job was as an administrative assistant in local government, before coming to higher education as an executive assistant to a Professor.
She said hard work, dedication, encouraging role models, and a supportive family are the secret to her successful career path.
"I'm really proud of my background as a professional member of staff who is now a Deputy Vice-Chancellor (DVC)," Ms Roberts said.
"There aren't many DVCs that have a background like me, coming into the sector as an executive assistant and working my way up through every level to be a DVC."
Reflecting on International Women's Day (IWD) 2019, Ms Roberts emphasised the importance of celebrating diversity.
"Until I had great female role models, I thought I could never be a senior leader unless I changed myself to be like them. When a coach told me 'it's OK to not be like them as organisations need diversity to be successful,' I realised I could do it too. That's the power of International Women's Day."
Ms Roberts has never let her title define her, and suggested the following advice to individuals on how they can better the balance: "Be authentic, work hard but have fun. Do not let work take away from the enjoyment of yourself and your life."
Making invisible work visible
While people often talk about the importance of early childhood learning opportunities, few people stop and think about the invisible work or wellbeing of those who provide such opportunities – the early childhood educators. And that's where Dr Tamara Cumming's passion lies.
"I'm passionate about what I research because the work of early childhood educators is so important, so complex and so under-appreciated," Dr Cumming said.
"Their everyday practice sets children up for life."
It was a research-focused role in a non-profit children's services organisation that introduced Tamara to CSU.
She joined the School of Teacher Education in 2014 as a lecturer and researcher, and completed her PhD in 2015.
In 2018, Tamara was awarded a CSU Research Fellowship to further support her work researching early childhood educators' wellbeing.
She recently authored a white paper that informed the Stories of the invisible children report for CSU and Royal Far West. This work advocates for improved health services for children and families in rural and remote areas.
"I'm proud that I'm able to do research that has the potential to make a difference to people's lives – that I can use my skills to help others. I feel like my contribution is to make visible parts of educators' work lives that are usually invisible, and advocate for attention to their wellbeing," Dr Cumming said.
Tamara comes from a long line of strong, deep-thinking women and was the first in her family to attend university. "I love celebrating International Women's Day (IWD). I feel connected to all the women who went before and those to come.
"International Women's Day encourages women to think about what it means to be strong and how we can contribute meaningfully to society, whether through our work or family."
Recognising a passion for teaching
As Quality Manager for the Faculty of Science, Kelly Linden looks at the quality of subjects across the Faculty, with a particular emphasis on attrition, progress and retention in the first year.
Ms Linden's passion for teaching was recognised in February with a Citation for Outstanding Contributions to Student Learning at the 2018 Australian Awards for University Teaching (AAUT).
Ms Linden started her career in science with a PhD in physiology at Melbourne University, during which she combined teaching with research, discovering that she wanted a future in teaching.
Passionate about International Women's Day, Ms Linden noted it presents a great opportunity to continue raising awareness of equity for women, bringing into focus the need for equity in pay and inclusivity.
Ms Linden said it can be difficult to achieve a work-life balance: "Having an interest outside of work is really, really important. If you find something outside of work that you're really passionate about, you're probably more likely to dedicate time to it, and really get into it."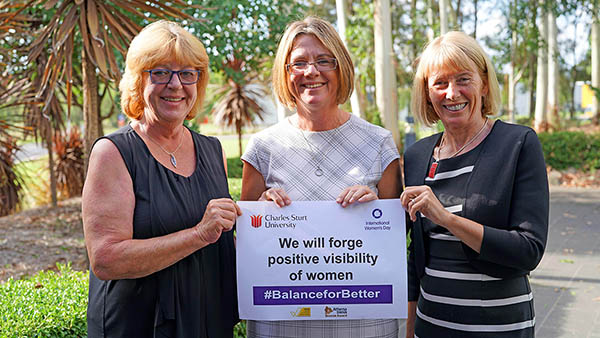 Deputy Vice-Chancellor (Students) Jenny Roberts (middle) is joined by Deputy Vice Chancellor (Research, Development and Industry) Heather Cavanagh (L) and Professor Tracey Green (R)