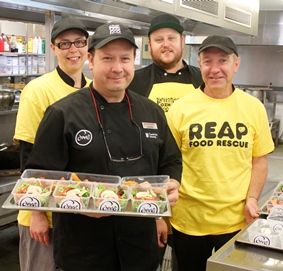 Chefs at Charles Sturt University (CSU) in Wagga Wagga have taken a break from feeding hordes of hungry students in 2016 to prepare frozen meals for those in need.
The 'Move Out Cook-up for REAP' project makes use of frozen and perishable food left behind by CSU students when they move out of their residential accommodation at the end of semester.
Team leader of food and beverage services at CSU, Mr Toby Perry said the food has been turned into individual frozen meals to be donated to REAP Food Rescue, the regional arm of OzHarvest.
"This food would otherwise have gone to waste so it's great to be able to offer up our chef skills to turn it into a meal for someone who needs it," Mr Perry said.
"This is another great way the University engages with our local community at a grass roots level. It adds to the work being done by REAP to affect some real change for local people.
"Students have been encouraged to donate unwanted food when they packed up their rooms to move out. Then kitchen manager Anthony White and I spent a day on the tools creating up to 222 individual frozen television-style meals.
"It's been heartening to see the response to this idea and I'd like to acknowledge the generosity of our students and the skills and resources of our catering staff.
"A lot of people doing small things can be really powerful."
The project is an initiative of the CSU catering team, Cheers, Residence Life and CSU Green.
It builds on an earlier CSU initiative which collects non-perishable food, kitchenware and household items donated by students in residences at the end of semester.
Residence Life coordinator Ms Siobhan Fisher said, "This is a great project to add to the non-perishables that we donate to charity each year.
"In the past week, students have also donated 53 boxes of non-perishable food and goods to charity."
CSU Green sustainability officer Ms Alesha Elbourne said, "With the announcement of Charles Sturt University's carbon neutrality status this year, it is great to have initiatives like the 'Move Out Cook-up for REAP' which support such a great charity while also reducing our carbon footprint."
REAP Food Rescue distributes food donations to charity partners in Wagga Wagga and Junee up to six days a week.