* Dr Kelly Linden will receive a Citation within the 2018 Australian Awards for University Teaching
* The Citation recognises Dr Linden's outstanding contributions to student learning
* Dr Linden will be congratulated for producing high-quality interactive electronic resources to support student learning of Anatomy
Charles Sturt University (CSU) Senior Lecturer in Anatomy and Physiology, Faculty of Science, Dr Kelly Linden (pictured), has recently been selected to receive a Citation as part of the 2018 Australian Award for University Teaching (AAUT).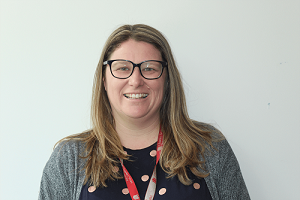 Dr Linden will be awarded a Citation for Outstanding Contributions to Student Learning; these Citations are presented to those who have made a significant contribution to the quality of student learning in a specific area of responsibility over a sustained period.

The Citation will reflect how Dr Linden responded to the challenge of teaching first year anatomy subjects to students enrolled in multiple courses across multiple campuses as well as students studying online, and with a wide variance in levels of preparedness.

Dr Linden approached this challenge by carefully designing learning experiences which harness the affordances of physical and virtual learning spaces and which capitalise on the capabilities of emerging digital technologies as a complement to the strategic use of cadavers.

The core innovation which has been the backbone of Dr Linden's success has been the development of a comprehensive program of interactive learning resources using the Smart Sparrow platform, generating personalised feedback and adaptive pathways, as well as allowing students to test themselves on their knowledge and understanding prior to undertaking assessment tasks.

Dr Linden, who has been lecturing Allied Health students at CSU for 10 years, said that she was very honoured to receive such a prestigious teaching award and, credits the opportunities she's been provided to develop innovative teaching practices.

"As many of our students study online or travel long distances to attend on campus classes, it has been important to develop online resources that give students the flexibility to study anytime and anywhere," Dr Linden said.

Dr Linden said that in the past, success in science subjects, especially anatomy, required long hours of revision in the laboratory.

"Having access to the latest technology has allowed me to create game like anatomy and physiology lessons that not only improve students marks, but also make study fun."
CSU Professor Barney Dalgarno, Acting PVC Learning and Teaching reflected that the data that Dr Linden has collected using the high quality Smart Sparrow resources demonstrates the almost universal uptake.

"These resources have been taken up by teaching staff within other anatomy subjects across CSU as well as by staff at other universities and have been referred to within national workshops as exemplars of the use of the Smart Sparrow adaptive learning platform," Professor Dalgarno said.

Dr Linden was informed by AAUT Citation Awards Committee Chair, Professor Denise Kirkpatrick providing her with overall feedback applauding her efforts:
"Producing high quality electronic resources, which are very difficult to collate in anatomy and biomedical teaching, is a very labour-intensive effort.

"Dr Linden is to be congratulated for producing many different structures and photographs. This is an excellent resource for student learning at CSU," Professor Kirkpatrick said.