A group of Charles Sturt University (CSU) students has a new understanding of production, cultural and animal welfare aspects of a key beef export market, after a tour of Indonesia.
The ten students from CSU's School of Animal and Veterinary Sciences in Wagga Wagga also visited Padjadjaran and Gadjah Mada Universities to learn about their courses and host animal welfare workshops for Indonesian students.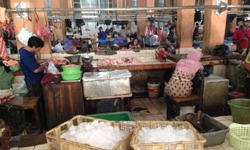 CSU Professor of Animal Production, Peter Wynn accompanied the students on the two-week tour which was funded by the Australian Government's New Colombo Plan.
"The students were given a rare insight into major feedlots fattening cattle from Northern Australia, the halal method of slaughter, facilities used to process these cattle and then the wet markets through which most beef moves to the consumer in Indonesia," he said.
"We were shown how beef cattle are reared in villages across Java in a share-farming production system between an urban investor and a farmer whose job it is to feed and look after the animals.
"The team monitored carefully the ritual halal slaughter procedure conducted without stunning and noted that suffering of animals was minimised."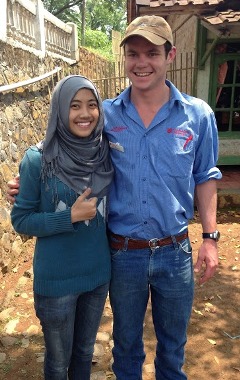 Bachelor of Veterinary Science student Mr Elliot O'Farrell has a particular interest in the northern beef industry and hopes to spend time on a live export vessel.
"I now have new insight into how the Indonesian industry is so heavily influenced by both culture and religious practices. The Indonesians' value their cattle and the animal welfare practices observed were of a high standard," he said.
"We also ran discussion groups with Indonesian students and exchanged ideas about how we can benefit their industry if they improve the animal welfare and re-educate both the farmers, the wives and the children together."
Professor Wynn said the tour also highlighted the differences between the two countries in terms of beef quality and marketing.
"Meat quality as we know it in Australia is very different to the understanding of our Indonesian neighbours. 80 per cent of Indonesia's beef is ground and converted into spiced meat balls, called Bakso balls," he said.
"Consumers can still purchase meat which had been slaughtered just hours before sale and typically pay the equivalent of $9 per kilogram, irrespective of whether the meat comes from the shin or the tenderloin."
Bachelor of Animal Science student Mr Andrew Carlyon said, "Before going on this trip, I had very little understanding of the Indonesian cattle industry, so I learnt a lot about the systems that are used in Indonesia, how Australian cattle are processed and how the Australian and Indonesian governments support the industry".
The students were addressed by Australia's Ambassador to Indonesia Mr Greg Moriarty, who talked about the strategic importance of the New Colombo Plan and the CSU visit to Indonesian – Australian relations.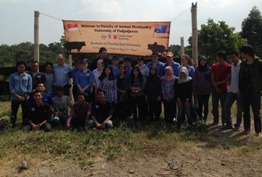 "There are now ten students with a detailed knowledge of how meat is produced and marketed in Indonesia. This will help in our ongoing co-operation in trade and development of the beef industries of both countries," said Professor Wynn.
Bachelor of Veterinary Science student Ms Madeline Reid said the tour has prompted her to think more deeply about how Australia can work with our northern neighbour.
"After working with some Indonesian students, as well as having the opportunity to discuss the beef cattle industry with a number of different farmers, I believe that Australia must help to educate the younger generations on animal production and welfare, as well as share our knowledge and new ideas," she said.
"Another major highlight was being able to use my Indonesian language and embrace the Indonesian way of life and meeting so many new and welcoming people."
The tour was supported by CSU Global, which encourages students to undertake a range of international study opportunities.