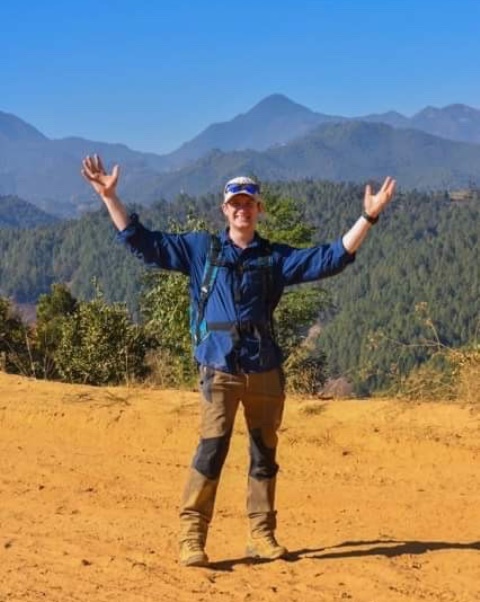 The South Asian country of Nepal was the perfect destination for Charles Sturt University (CSU) Bachelor of Outdoor Education student, Mr Adam McDonnell, combining his love of teaching and nature.
As part of a CSU Global international study experience, Mr McDonnell spent three weeks at the end of last year in the landlocked country in classrooms of a high school in the capital Kathmandu as well as trekking and exploring Nepal.
The 2nd year education student was one of over 600 CSU students who took part in international experiences as part of their studies during 2017.
Mr McDonnell said, "I worked in the school Riviera International Academy in Kathmandu, teaching social science to Nepalese students in years 7, 8 and 9.
"I had fun with energetic and loud students in every class. It was a fantastic environment to teach in.
"In addition, I explored religious and cultural places such as the Swayambhunath Stupa or Monkey Temple and the peaceful and mesmerising monastery, Namo Buddha.
"I also trekked, which is expected when you are in the trekking capital of the world!
'We did a 17 kilometre trek from a town called Panauti, south of Kathmandu up to the Buddhist monastery. The walk took us through the Nepalese countryside, with the Himalayas constantly in sight," Mr McDonnell from CSU in Albury-Wodonga said.
Another highlight for the CSU student was the enjoyment of communicating with the local residents despite language barriers.
The international learning experience has had an impact on the CSU student's career outlook.
"My experience in Nepal has widened my career choices in the long-term," Mr McDonnell said. "It also reminded me that I am doing the right course at Charles Sturt University and I will continue to enjoy it.
"Would I do another CSU Global study trip? Hell yes. The best part about the trip is that you discover a new world of people.
"Most of all, you learn something about yourself, your strengths your weaknesses and you gain an incredible and versatile network of people."
Background
Mr McDonnell was one of nine CSU education students who took part in the CSU Global program to Nepal in December 2017. They were paired with teachers in a local school to observe classes, share lesson planning and teach lessons
The CSU Global program, Diverse School Placement in Kathmandu was organised through CSU Global and partially funded by the Australian Government's Asia Bound funding through the Department of Education.
CSU Global will be offering an array of programs again in 2018. With around 70 different programs on offer to CSU students. CSU Global will be offering an array of programs again in 2018. With around 70 different programs on offer to CSU students.
The Bachelor of Outdoor Education is a four-year degree offered at CSU in Albury-Wodonga. It prepares students to be teachers of outdoor education and geography in secondary schools.