A woman from Wagga Wagga is a clear reminder of how Charles Sturt University's (CSU) is fulfilling its commitment to play a leading role in solving the rural health labour force crisis in Australia.
Ms Sharnie Moore is one of the 13 inaugural graduates in the
Bachelor of Oral Health (Therapy/Hygiene)
program to receive their degrees from University Chancellor, Mr Lawrie Willett AO from 9.30am on Wednesday 14 December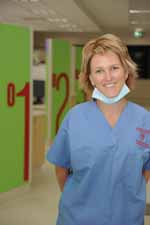 A job awaits Ms Moore as an oral health therapist at Bright Smiles Dental Surgery in Wagga Wagga.
"After 10 years working as a dental assistant, I jumped at the chance to go to university in my home town to study to become a qualified oral health professional," said Ms Moore. "Tertiary education wasn't on my agenda when I finished at Mount Austin High School in 1998 but Charles Sturt University gave me an opportunity that I have relished. I really had to work hard with the science subjects, as I was studying a health science degree."
Ms Moore won a three year scholarship through the Charles Sturt Foundation. She finished her degree with mainly Distinctions. The birth of her second child in 2009 didn't slow her down either. Ms Moore's daughter was born on a Tuesday and she was sitting her first year exams two days later.
The oral health program was introduced at CSU in Wagga Wagga in 2009; the same year the five year dentistry degree program began at CSU in Orange. Since that year, the University has opened
Dental and Oral Health Clinics
in Albury-Wodonga, Bathurst, Dubbo, Orange and Wagga Wagga, which are taking appointments from the public.
"Charles Sturt University is providing health education to rural students in regional Australia, offering a chance to study degrees which would be difficult for most rural students if they were restricted to enrol in city universities," said lecturer in oral health with the
School of Dentistry and Health Sciences
, Ms Helen Tane.
"Nearly all of our oral health graduates have employment in regional areas. I believe they will have a significant impact on improving poor oral health statistics in rural communities, as they are graduating with skills of excellence in dental therapy, dental hygiene and health promotion."
During the upcoming graduation season at CSU in Wagga Wagga from Monday 12 December to Wednesday 14 December, six ceremonies will be held in Joyes Hall for almost 960 graduates.
Further highlights of the six ceremonies include:
9.30am Monday 12 December
5.30pm Monday 12 December
9.30am Tuesday 13 December
5.30pm Tuesday 13 December
9.30am Wednesday 14 December
5.30pm Wednesday 14 December