* Bachelor of Education (K-12) student, Edward Smith will take on role as John Oxley Village Head Resident at CSU in Bathurst
* Mr Smith says students can expect a supportive and worthwhile living experience
* Mr Smith will lead a diverse team of Residential Advisors from all over NSW studying a range of different courses

Charles Sturt University (CSU) student and former Residential Advisor (RA) of John Oxley Village (JOV), in Bathurst, Edward Smith (pictured), will return this year to take on the role as JOV Head Resident.

Originally from Tottenham, NSW, Mr Smith is completing a Bachelor of Education (K-12) Majoring in English 4th Year, said that he is eager to give the first year and returning students a fantastic experience while they are living on Residence.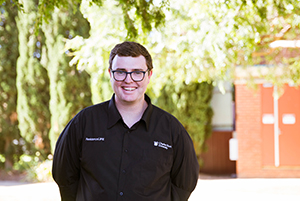 "This is my second year in the Residence Life Team, last year I was an RA so to be able to use my previous experience and apply it to the Head Resident role will be really useful." Mr Smith said.

"I am passionate about the residence I live on, and I want new and returning students to have the same experience I had from former Head Residents."

Not foreign to student leadership positions at CSU, Mr Smith has enjoyed being part of different committees including; JOV Social Committee, CSU Netball Committee and Combined Residence Association.

"Being involved in these type of roles has helped me to make new friendships on other residences and gain essential leadership skills." Mr Smith said.

"I love the vibe and feel about Bathurst campus; it's a great place where you are made to feel welcome and a place where you can be yourself."

Mr Smith said that students can expect an exceptional living experience for 2019, with all students moving onto campus to be supported and given a variety of opportunities that they won't be able to receive anywhere else.

"Students moving on to campus are lucky to have young adults who have been trained to help ensure they are having a worthwhile university experience and can offer support and guidance when needed."

The Residence Life team across all CSU campuses participated in formal training which teaches a range of skills that will equip and prepare them for the role and also life after university.

"Head Resident training involves learning about leadership and ways that we can be the best leaders."

The training also teaches the importance of keeping everyone safe and working towards ensuring that the University is an excellent place for students to move on to."

Head Res training teaches the students involved a variety of skills which help to make the university and living on residence a safe, inclusive enjoyable environment." Mr Smith said

This year, Mr Smith will be leading a team of diverse Residential Advisors who come from a variety of locations around NSW and study a range of different course from Education to Journalism.

"I will be working with a fantastic group of young adults who are as passionate about the student experience just as much as I am." Mr Smith said.