* CSU honours student is investigating impact of smartphone and tablets on users
* Research explores associated patterns of musculoskeletal symptoms among adults
* Public invited to complete research survey
Charles Sturt University (CSU) final-year Bachelor of Physiotherapy (Honours) student Ella Thorburn (pictured) invites members of the public to participate in a research project titled: "Musculoskeletal symptoms among smartphone and tablet device users."

The research conducted by Ms Thorburn, CSU Dr Shaun Wang, PhD (Biomedicine) and CSU Professor Rodney Pope, Physiotherapist, looks at smartphone and tablet device usage and associated patterns of musculoskeletal symptoms among adults.
The research participants simply fill out an anonymous online survey three times over a two-week period.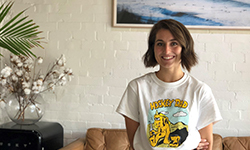 Ms Thorburn said that the research idea came from a discovery she noticed during her six-year career as a swim coach in her hometown of the Blue Mountains.

"During my time as a swim coach, I encountered many injuries that would limit swimmers andoften they were related to incorrect technique, reduced range of motion or muscular weaknesses," Ms Thorburn said.

"Some of the high school students I taught, who were using Ipads in class had common complaints of shoulder pain, which was later diagnosed by the swimmer's physiotherapists."

During this period Ms Thorburn noticed similar complaints in tablet device users and said that when she was given the opportunity to research in an area of her choice "this was certainly something I could see a practical benefit to investigating further."

With the ongoing incorporation of smartphone and tablet devices in educational institutions, and other facets of life including social, health and occupational spheres, Ms Thorburn believes the research findings will ultimately be relevant to a large percentage of the population.
To participate in the anonymous online survey, click here. This will require participants to access it three times over a two-week period of their choice.