* CSU leads by 14 per cent the national average for graduate outcomes in Australia
* CSU announced state leader for graduate starting salary of $62,000 in NSW
* CSU receives the number 6 rank for learner engagement in the country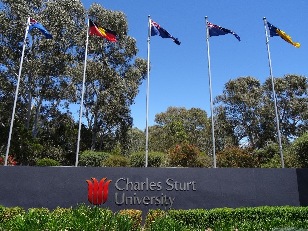 Charles Sturt University (CSU) has again been recognised as having the number one position in Australia for Graduate Outcomes and starting salary in New South Wales.

The Good Education Group's Good Universities Guide results based on national survey data demonstrate that a total of 85 per cent of CSU graduates were employed four months after completing their course, trumping the nation's average of 71 per cent.

The results also highlight CSU's position as the state's leader in graduate starting salary sitting at $62,000 – a four thousand dollar increase on the nation's average.
CSU's Vice-Chancellor Professor Andrew Vann said the results are in recognition of CSU's commitment to students and strong industry connections.

"As a university, we are focused on excellence in education and pride ourselves on providing our students with a strong sense of belonging," said Professor Vann.
"As a committed partner for regional New South Wales, we equip students with strong and necessary skills for future employment and today's results are evidence of this."
An employer of many CSU graduates over the years, Chris Colter, Sydney Director at advertising agency UM said that hiring someone from CSU is a guaranteed safe bet.

"Few industries experience the rate of change that advertising does, as such it's vital for our agency to source talent from establishments that keep up to speed with our ever changing landscape. CSU is a priority hunting ground for UM for we know that graduates are not only intelligent and driven, but they've been given the real-world practice needed to hit the ground running when they start," Mr Colter said.
These achievements are part of a string of notable results for the University who also dominated the rankings for:
* Number 6 rank in Australia for learner engagement –proportion of students who are satisfied with the level of learner engagement at their university
* Number 8 rank in Australia for first generation students –proportion of domestic students completing a bachelor degree whose parent's education is known and did not exceed Year 12
* Top 20 per cent nationally for full-time employment outcomes in the fields of Pharmacy, Veterinary Science, Law and Paralegal Studies, Business and Management, Agriculture and Environmental Studies, Computing and Information Systems, Communications, and Psychology
A detailed list of CSU's results are available online via The Good Education Guides Good University Guide 2019 and much of the underlying data is publicly available via the QILT website.