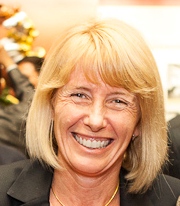 Charles Sturt University (CSU) has agreed with Open Colleges to provide enhanced pathways for its social work students to articulate to CSU degrees.
CSU is the largest provider of social work education in Australia and Open Colleges is Australia's largest provider of non-university Vocational Education Training (VET), with over 60 000 students.
This major new agreement will enable students studying social work with Open Colleges to articulate into the CSU social work program offered through the CSU School of Humanities and Social Sciences.
Executive Dean of the CSU Faculty of Arts Professor Tracey Green (pictured) said, "This articulation partnership agreement shows the commitment of Charles Sturt University to work with industry and ensure the relevance of its courses.
"This provides an opportunity for students in the VET sector to extend their learning into a university setting to gain a relevant industry-based qualification.
"Open Colleges is an Australia-wide VET provider and has recognised the quality of the University's social work and social welfare degrees, and as such has entered into a partnership agreement as a preferred university for articulation. Charles Sturt University is also recognised as having one of the best graduate employment rates in the country."
Dr Cate Thomas, course director and senior lecturer in the CSU School of Humanities and Social Sciences, said Open Colleges offers two diploma courses that articulate into the CSU social work and social welfare degrees (credit packages), so the students can transition to the CSU degrees with advanced standing.
"This is a very significant development for Charles Sturt University and students of Open Colleges," Dr Thomas said.
"Open Colleges currently has over 3 000 students in those two diploma courses and it will list Charles Sturt University on their website as a university partner if their students wish to progress to a university qualification. We hope that a percentage of these students will articulate to a Charles Sturt University degree. We will guide the students into either the online distance education mode, or internal strands currently on offer in our social work and social welfare courses."
Open Colleges representatives Ms Morwenna Shahani (General Manager of the Education, Health and Community Services Division) and Ms Karin Rule (Head of Portfolio, Community Services) will arrive in Wagga Wagga on Wednesday 9 September to sign the agreement with CSU. Professor Tracey Green, Dr Cate Thomas, and Dr Fredrik Velander (CSU course director for the social welfare program) will sign the agreement on behalf of CSU.