There's been a call for improved assessment of the effect of naturally-occurring or herbal treatments for horses suffering from insulin resistance.
Insulin resistance in horses can lead to the crippling disease laminitis. While often associated with obesity, it can also pose a risk to non-obese insulin-resistant animals.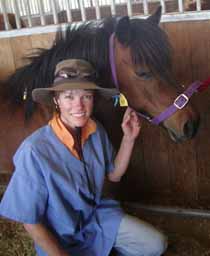 PhD student Ms Kellie Tinworth from the
School of Animal and Veterinary Sciences
at Charles Sturt University (CSU) in Wagga Wagga reviewed several herbal treatments which have the potential to be used for insulin resistance in horses.
The herbal treatments, which are used by humans for insulin resistance, glucose intolerance or obesity, included Asian Ginseng, Berberine, Bitter Melon, Glucosol and Indian Kino Tree.
"It is important that equine-specific research work is undertaken into the alternative treatments before conclusions can be made as to the value and safety of herbal remedies in the treatment or support of horses with insulin resistance," wrote Ms Tinworth in an article for the peer-reviewed international publication, The Veterinary Journal.
"In the wild obesity was a survival mechanism for horses facing seasonal feed shortages. However in the domestic setting it is a liability. Sometimes food management and exercise are not sufficient and there may be a need for medication.
"There is increasing popularity of herbal remedies for humans and other animals so my review shows there is a clear need to identify and evaluate alternative therapies that are safe, efficacious and cost-effective for the equine patient.
"Scientific data is needed to support growing claims of the benefit of herbal remedies and dietary supplements for horses.
"I hope this review will assist scientists who are thinking of research in this area," said Ms Tinworth.
The article, 'Potential treatments for insulin resistance in the horse: A comparative multi-species review', was the seventh most downloaded article in the international peer-reviewed
The Veterinary Journal
from October to December 2009. The article, which was published online on Wednesday 23 September 2009, can be found
here.
"The apparent popularity of the article is further evidence of the interest in herbal treatments in the equine field," said the postgraduate student.