Almost 40 students from Charles Sturt University (CSU) will gather in Wagga Wagga on Friday 5 August before they embark on their new careers in the veterinary science profession.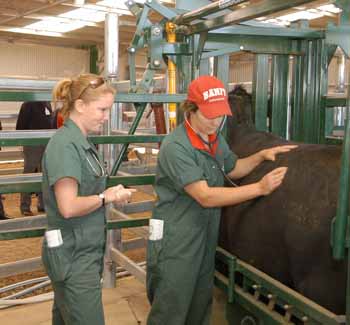 Leading the students in the Oath will be Dr Ruth Thompson, President of the NSW Veterinary Practitioners' Board. Liberal Senator for Western Australia and veterinarian Dr Chris Back will deliver the keynote address at the Commemoration Ceremony.
In March, Senator Back moved a motion in Federal Parliament to highlight World Veterinary Year 2011, marking the 250th anniversary of veterinary education. The first school was established in France in 1761.
During the ceremony in Joyes Hall at CSU in Wagga Wagga from 2pm to 5pm on Friday 5 August, Vice-Chancellor and President of CSU Professor Ian Goulter will address the students. Eight prizes will be presented to members of the Class of 2011.
One of the students to take the Veterinarians' Oath is Mr Cameron Hendricks from Melbourne. Ahead of his departure to King Island to work in a mixed veterinary practice, Mr Hendricks said, "The Commemoration Ceremony is an opportunity for the 2011 class to reflect on the educational opportunities which we have been afforded at Charles Sturt University and a chance to thank the staff for guiding us during the past six years of our course".
Head of the
School of Animal Veterinary Sciences
at CSU in Wagga Wagga, Professor Nick Sangster said, "We thought our first group of graduates who entered the workforce in 2010 were special, but we are finding each year reaches new heights. The Class of 2011 has benefitted from the further development of the program, staff positions being filled and the facilities being further developed. As a result they seem more confident. They will be a credit to Charles Sturt University and the profession".
The Commemoration Ceremony is only the second such event for CSU, which began its veterinary science program in 2005 to meet the critical shortage of veterinary scientists in rural and regional Australia.
The veterinary science students will be awarded their degrees during graduation ceremonies at Charles Sturt University at the end of 2011.
The Bachelor of Veterinary Biology/Bachelor of Veterinary Science is a six-year program offered through the School of Animal and Veterinary Sciences at CSU in Wagga Wagga.