A Charles Sturt University (CSU) student has combined her two loves – sport and journalism – in a successful work placement with the Australian Olympic Committee (AOC) in the lead up to Rio 2016.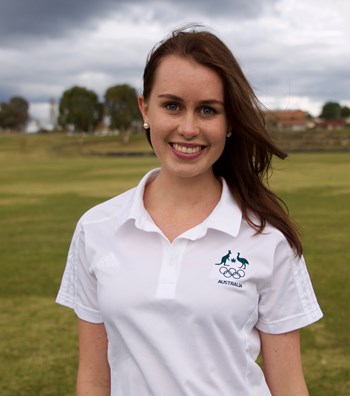 In the third year of a Bachelor of Sports Studies/Bachelor of Communication (Journalism) at CSU in Bathurst, Ms Georgia Thompson is part of the AOC communications team.
"Following a discussion about my interests and career aspirations last year, one of my lecturers Chris McGillion encouraged me to contact Mike Tancred, AOC Media Director," Ms Thompson said.
"I emailed Mike that same day, and by the end of the next week I had secured a work placement or internship with the AOC."
Ms Thompson, from Armidale in the NSW Northern Tablelands, undertook her workplace learning over three months last year and in December, the AOC offered her a paid internship position for 2016.
"I am currently working two days a week – mainly from Bathurst where I attend Charles Sturt University. But my hours will increase during the Rio 2016 Olympics Games in August," she said.
"I am not going to Rio, but will be part of the AOC communications team in the Sydney headquarters.
"My main role is to write athlete biographies which are published on the AOC website. I also help manage photo galleries and assist with digital content when on the ground in Sydney.
"The AOC had several ASPIRE sessions early this year so the athletes could find out more about Rio, do their accreditation, get fitted for uniforms, have media interviews, and learn about social media.
"I attended four of these sessions, running the social media stand that helped athletes film funny videos for social media, took photos for Instagram and Twitter, and ran athletes through the AOC media plans for the Rio Games.
"My work with the AOC has been the biggest learning experience of my degree but I really enjoy it.
"I love working directly with the athletes and creating exciting content for social media.
"My workplace learning has taught me that I really want to work in the media department for a national sporting body at the end of my degree, instead of following the traditional journalism path.
"We learn the theory and practise of journalism at University, but you only really understand it properly when you use it in real life, which is why I believe workplace learning is so crucial and important."
AOC Director Media and Communications Mr Mike Tancred said, "Georgia is producing outstanding material and is a valued member of our media team. Most importantly, she has embraced the culture of the AOC and 'fits' perfectly in our workplace."
Data recently released by the Quality Indicators for Learning and Teaching (QILT) showed CSU had the highest graduate employment rate in Australia, underscoring the importance placed on preparing CSU graduates with real life skills sought by employers.
The University's School of Communication and Creative Industries offers a range of undergraduate and postgraduate degrees in advertising, marketing, media practice, public relations, journalism radio theatre, animation and visual effects, photography, graphic design, fine art, acting and design.