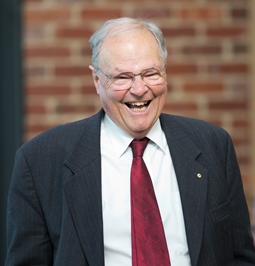 On the eve of his retirement, Charles Sturt University (CSU) will award Chancellor Mr Lawrie Willett AO an Honorary Doctorate of the University, recognising his contribution to the University and its communities.
The award will be conferred at a formal farewell dinner for Mr Willett at CSU in Bathurst on Wednesday 3 December.
Over 12 years as Chancellor Mr Willett has overseen CSU's growth to become the largest provider of higher education in regional Australia.
"The University prides itself on engaging with the community to identify and provide the teaching and research that regional areas need to thrive," he said.
"Charles Sturt University's veterinary and dentistry programs are good examples of that, helping to address the shortage of professionals in rural Australia by training people in the regions, for the regions.
"We've seen new community dental and allied health clinics across multiple regional locations, and major new research and teaching facilities such as the National Life Sciences Hub.
"Through innovation in distance education and TAFE articulation pathways, Charles Sturt University is a leader in providing opportunities for our regional students to gain higher education.
"More recent has been the development of a campus at Port Macquarie. Although it's not within our traditional footprint, we saw that the Mid-North Coast had low rates of participation in tertiary education and that we could offer the opportunity for people to develop skills and contribute to their community."
Graduation ceremonies have been a highlight for Mr Willett and over the past 12 years he's shared conversations with thousands of graduates.
"There are many special stories but I'm always pleased to shake the hand of the mature-aged nurses and teachers," he said.
"In many cases they've been working for years and, through the distance education provided by Charles Sturt University, they've been able to get a degree to further their careers. To see the look on their faces is immensely satisfying."
CSU Vice-Chancellor and President Professor Andrew Vann praised Mr Willett's stewardship, leadership, support and guidance.
"I want to pay particular tribute to Lawrie on a couple of fronts," said Professor Vann. "The first is his very evident pride in, and passion for, Charles Sturt University's work and mission. He has been an exceptional ambassador on behalf of the University.
"This is true in Australia but recently I was in China and Lawrie is well known to and well regarded by all of our Chinese partners as well as alumni in Hong Kong and elsewhere.
"The second and I think this is what underpins it, is that Lawrie has a genuinely good nature and a genuinely good heart.
"Of course, in my three years I have occupied almost one quarter of Lawrie's time at Charles Sturt University and I would like to say a personal thank you for his support and mentoring of me in that time."
Reflecting on his time as Chancellor, Mr Willett said, "It has been a real privilege to be associated with a University that has grown so well.
"It has great stability at a corporate governance level and a University Council that brings skills, experience and wit to identify how best to serve our communities.
"I have to acknowledge the two outstanding Vice-Chancellors I've worked with, Professor Ian Goulter AM and Professor Andrew Vann.
"I'm confident that Charles Sturt University has a great future and is in safe hands with the incoming Chancellor Dr Michele Allan."
Dr Allan will be installed as the new CSU Chancellor during a formal ceremony in Bathurst on Thursday 4 December.