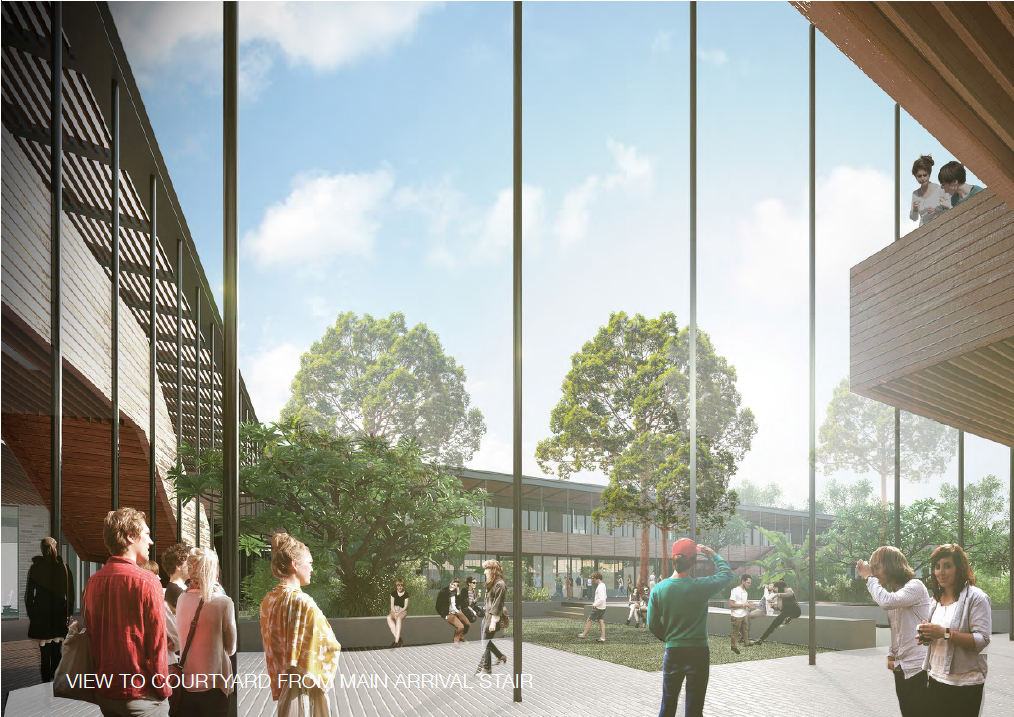 Charles Sturt University (CSU) has unveiled designs for the first stage of its permanent campus in Port Macquarie, due to open in February 2016.
CSU Vice-Chancellor, Professor Andrew Vann, released the first-stage design today at the University's current temporary Grant Street campus.
"This is an extremely exciting and important chapter for Charles Sturt University in Port Macquarie, where vision starts to become reality," Professor Vann said.
"Since 2012, the University has provided many education opportunities to the people of the Mid-North Coast.
"Stage one of the new campus will expand this tertiary reach by offering places for up to 770 full-time equivalent students and expand the range of courses on offer."
The new campus will be located at Lake Innes, about five kilometres from the city centre, and will be completed through a staged building program up until 2030.
During stage one, teaching and research areas, a library and Learning Commons, and an Indigenous Student Centre will be built around a central courtyard.
Mr Stephen Butt, Executive Director of the CSU Division of Facilities Management, said outside learning and common areas are prominent features of the design.
"The designers have developed a campus that is in tune with the environment and generates a sense of place," he said.
"The campus features indoor and outdoor teaching areas to take advantage of the conditions on the Mid-North Coast."
The campus will also house the Food Soil Water Testing Centre, a joint initiative between CSU and the Port Macquarie-Hastings Council.
Funding assistance of more than $18 million for stage one has been supplied through the federal government's Department of Industry, Innovation, Science, Research and Tertiary Education, and the department's Education Investment Fund.