A new chapter in a rapid response to emergency animal disease outbreaks will be unveiled this week with the official opening of a new laboratory at Charles Sturt University (CSU) in Wagga Wagga.
The
Veterinary Diagnostic Laboratory
is a world-class diagnostic and research facility with specialised laboratories to permit post mortem examinations of livestock and to detect disease in a wide range of animal species.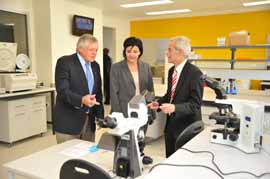 The Veterinary Diagnostic Laboratory, to be officially opened from 1.30pm on Wednesday 10 February by The Hon. Ms Jodi McKay, MP, NSW Minister for Science and Medical Research, is the latest facility to be unveiled by the
School of Animal and Veterinary Sciences
at CSU in Wagga Wagga.
"This facility will provide training for undergraduate and postgraduate animal science and veterinary students," said Director of the Veterinary Diagnostic Laboratory, Associate Professor Shane Raidal. "They will use the new facility to learn post mortem techniques, pathology, sample collection and processing. There is a separate dedicated clinical pathology teaching laboratory for teaching cytology and microscope skills.
"The Laboratory will be a key part of maintaining Australia's animal bio security and assist in the investigation of animal diseases. It will provide diagnostic services to the veterinary community and livestock producers with particular emphasis on pathology, microbiology and parasitology."
Securely located in the centre of the building is a Physical Containment Level 3 (PC3) laboratory for the diagnosis of and research into potentially dangerous diseases such as anthrax, Q-fever and psittacosis. The majority of the facility is constructed to Physical Containment Level 2 (PC2) standards.
"Charles Sturt University is the first veterinary school in Australasia with the dedicated PC3 veterinary diagnostic laboratory," Associate Professor Raidal said.
More than 20 highly skilled staff, such as pathologists, parasitologists, microbiologists and histologists are attached to the new facility.
The necropsy room for post-mortem examinations caters for the largest of farm animals with the use of an overhead gantry system and an hydraulic dissection table. There are holding pens and a large cold room for storing animal parts for research, teaching and further investigation.
"The new laboratory realises Charles Sturt University's goal of creating infrastructure, services and teaching in the interests of inland Australian communities and livestock industries through its veterinary science program," Associate Professor Shane Raidal said.
Architect for the $8.2 million Veterinary Diagnostic Laboratory was S2F from Sydney and building contractor was Joss Construction of Albury. Construction of the facility began in March 2009 and was completed in December 2009.