Work has started on the construction of a $1.75 million 'Experimental Winery' at the National Wine and Grape Industry Centre (NWGIC) at Charles Sturt University (CSU) in Wagga Wagga.
The two-storey addition to the Experimental Winery will provide valuable facilities for NWGIC researchers and CSU students in the oenology – or wine-making – and viticulture programs.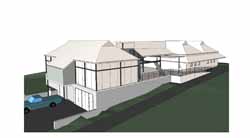 The project includes the construction of three temperature controlled fermentation rooms, a wine library and equipment storage room as well as the refurbishment of the current CD Blake experimental winery building with a new laboratory and wine tasting room. Also included in this expansion is the relocation of sheds for vineyard equipment for CSU's commercial winery.
"One new wine fermentations room will allow heating and cooling of up to 66 individual fermenters," said NWGIC Director, Professor of Oenology, Thomas Henick-Kling.
"The new fermentation tanks, which each have their own temperature control, and the fermentation monitoring system are among the best in the industry."
The small scale fermenters and the fermentation control system were developed in cooperation with A&G Engineering in Griffith, NSW.
"Once completed, this new facility will allow the production of experimental wines to assess the impact of vineyard management practices, vineyard site, grape and wine microflora, and winemaking practices on the final wine flavour profile," said Professor Henick-Kling.
The NWGIC is a partnership between CSU, the NSW Department of Primary Industries (DPI), and the NSW Wine Industry Association. It is dedicated to research and education in viticulture and wine wine quality.
The new Experimental Winery is being funded by a $500 000 contribution from DPI and $1.25million from CSU's infrastructure improvement fund. The work is due for completion in December 2008.
Overseen by the University's Division of Facilities Management, the architect for the project is John Blackwood Architects Pty Ltd and the building contractor is ICG Wagga Pty Ltd.
The new Experimental Winery is one of a number of major development projects underway at CSU's Wagga Wagga Campus. They include the $2 million refurbishment of the Graham building, built in the 1950s, to provide a 130-seat lecture theatre and additional space for agricultural and veterinary science students and staff; a $1.05 million reconstruction of the Sutherland Laboratory which was damaged in an explosion in 2007; additional student accommodation; and a $11.9 million project for the new School of Dentistry and Health Sciences at CSU.