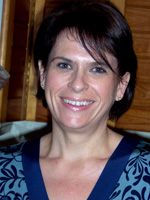 While the incidence of serious violent crimes against individuals remains relatively stable in the community, it is concerning that the clearance rates for the same crimes are also stable, a Charles Sturt University (CSU) academic said.
"Considering the advances in technology, education, and training of law enforcement officers, and increased resources in recent decades, this scenario should be different," argues Ms Amber McKinley, a criminology lecturer and researcher at the CSU
School of Policing Studies
in Goulburn.
"Specialists in the fields of investigation and forensic psychology are using many resources available to them to help stop the offenders.
"With the exception of eye-witness accounts and forensic evidence, the most important 'resource' to an investigator is the victim of the crime.
"How can a deceased victim aid in the investigation?" she asks. "The answer is 'victimology'.

"The dictionary definition of victimology is 'the study of the psychological effects experienced by the victims of crime', but police use this term in a practical way.
"As a matter of course in homicide investigations, police 'do' a victimology which will give them a very complex and complete picture of the victim, and hopefully from this, a glimpse at a possible 'person of interest' (POI).

"The most important aspect of victimology for criminal investigative analysis is that it narrows the 'pool' of possible offenders tremendously. Each question answered about the victim is actually a potential window to the offender's psyche, and could possibly answer questions about the offender.

"Forensic psychologists can use the results of a victimology study to locate common denominators among the victims. This enables them to narrow the possible offender type and to alert law enforcement to the types of people to warn, for example through the media."
Ms McKinley says practical victimologies help investigators and forensic psychologists by suggesting pro-active techniques to bring the offender closer to apprehension, and advising law enforcement of interrogation techniques designed to assist in getting a POI to confess.

"The victim is, in this way, able to actively participate in the investigation and is the only one, aside from the POI, who knows what happened during the committing of the crime," she said.
Ms McKinley detailed some of her research finding in a presentation,
Solvability, Victimology and Criminal Investigative Analysis
, at the CSU School of Psychology Research Colloquia in Bathurst on Wednesday 14 March.