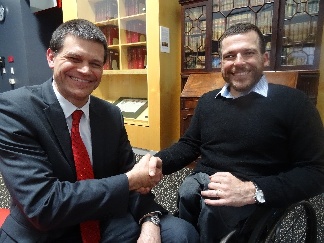 Charles Sturt University (CSU) alumnus and wheelchair marathon champion Mr Kurt Fearnley, OAM, has been announced as a new Pro Chancellor for the Northern Region of the University.
Mr Fearnley was born in Cowra, lived in Carcoar, and graduated from the CSU School of Teacher Education in Bathurst in 2006. He currently lives in Newcastle, which is more closely linked to CSU's Northern Region.
CSU Chancellor Mr Lawrie Willett, AO, said, "The ceremonial office of Pro Chancellor is a key role for Charles Sturt University, providing a local bridge between the University and its communities, and reinforcing the importance of our regions in the life of the University".
"Kurt Fearnley is an outstanding international athlete and has represented Australia at events around the world. He brings to his role as Pro Chancellor a wealth of experience and a deep affinity with rural and regional Australia."
Mr Fearnley said, "I'm delighted to be honoured by this appointment at Charles Sturt University".
"I'm a proud alumnus and a staunch advocate for the positive impact regional universities have for both students and the communities they reside in."
Mr Willett, who is Chair of the University Council, said the appointment of Mr Fearnley follows the recent announcement by CSU of Mrs Carole McDiarmid, PSM, as the Pro Chancellor for the Central Region (Bathurst, Orange and Dubbo), and Mr Angelos Frangopoulos as the Pro Chancellor for Sydney (including sites at Homebush, Lidcombe, Manly and Parramatta).
The position of Pro Chancellor has been vacant since the retirement of former CSU Deputy Chancellor Mr Ian Macintosh, AM. Following his success in the role, the University Council decided to establish Pro Chancellor roles for its northern, central, southern and Sydney regions to expand engagement opportunities with local communities. The Council will announce an appointment to the southern position in the coming months.