* CSU alumnus, Kurt Fearnley, AO, announced as NSW Australian of the Year 2019
* Mr Fearnley also named the GQ Sporting Icon of the Year 2018
* Mr Fearnley graduated from the CSU School of Teacher Education in Bathurst in 2006
Charles Sturt University (CSU) alumnus and Pro-Chancellor for the Northern Region of the University, Mr Kurt Fearnley (pictured below with CSU Vice-Chancellor Professor Andrew Vann), AO, has recently been named NSW Australian of the Year 2019.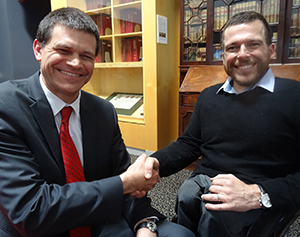 Australia's most famous wheelchair racer, Mr Fearnley said that it was a wild mix of emotions when he heard his name called as the recipient of the accolade.

"I felt a wave of disbelief, shock, pride and then panic!" Mr Fearnley said. "I really hadn't prepared what to say as I didn't anticipate winning over such an outstanding bunch of Australians.

"Now the moment has passed I'm immensely proud and thankful for the opportunities I have had across my 37 years and everyone who has had the belief in me to help me along the way."
Mr Fearnley, who was also named the GQ Sporting Icon of the Year 2018 in the same week, graduated from the CSU School of Teacher Education in Bathurst in 2006 and is a qualified personal development, health and physical education (PDHPE) teacher.

Prior to commencing study, Mr Fearnley spent two years in the 'big smoke' racing. While this was a great experience, he said that it was nice to come back to the country and sink his teeth into study.

"Growing up in Carcoar, CSU in Bathurst was my local university," he said. "The experience, to me, was made memorable with the people I met through my studies. Some of my best mates, still today, I met while studying at the University."

Mr Fearnley admits "life is a little hectic just now", and is looking forward to settling into life in Newcastle with his young family, but he intends to regain a little more balance in his life, which may include teaching.

"I'm one of three school teachers in my family and teachers I had at school were some of the most influential people in my life. I hope that one day I can use my influence as a teacher to help some children grow as people and have a good rip at life," Mr Fearnley said.

"I will most definitely be involved in education in some capacity. Importantly, making sure that other children with a disability don't come up against barriers which stop them enjoying and embracing an inclusive education."

One of Australia's most positive role models, Mr Fearnley has indeed overcome many challenges in his life. He believes that the key ingredient to overcoming obstacles and following your passion is to ensure that when an opportunity comes your way, "Start with 'why not' rather than 'why would I' and give it a crack".