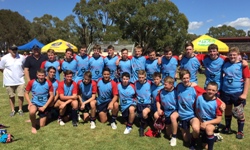 Charles Sturt University's (CSU) partnership with the Western New South Wales rugby teams is off to a flying start for 2015 with wins secured in the first round of the Junior Gold Cup at CSU Orange.
The Charles Sturt University Western NSW under 15 and under 17 teams are sponsored by CSU as part of the University's community engagement program. Both Gold Cup teams secured a win against Illawarra on Sunday 15 February at their home ground.
The University's partnership with the teams is aimed at expanding education aspirations and opportunities for practical experiences for students across the Central West.
"Our partnership with the Charles Sturt University Western NSW teams is an example of how the University can supports its local communities and future students," Student Engagement Manager Mr Niklaus Granger said.
"University life is about forming well-rounded individuals who excel in all aspects of their lives professional, sporting and cultural and we are hopeful that our involvement in the teams will help to raise the educational and professional aspirations of the players."
The University's involvement with the teams will also provide opportunities for current CSU students with intern and work experience opportunities available.
The Junior Gold Cup (JGC) underpins the Pathway to Gold – Australian Rugby Union's national talent development program. The JGC exists to support the long term development of potentially talented players in the U15-17 year age groups.
The Charles Sturt University Western NSW under 15 and under 17 teams will play Sydney North Harbour on Saturday 21 February in Sylvania.