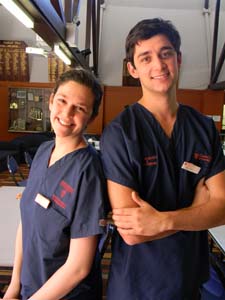 Siblings Kate and Ben Xouris are encountering anything but rivalry as they live and study together with the intention of continuing the family profession as dentists when they graduate from Charles Sturt University (CSU).
Now in the fourth year of a five-year
Bachelor of Dental Science
degree, Ms Kate Xouris (23) was always keen to follow in her father's footsteps to become a dentist.
"I did work experience with Dad at his dental clinic in Sydney," said Kate. "I could see Dad helping people and knew I wanted a career where I could go to sleep knowing I'd made people's lives better."
Mr Ben Xouris (21) left the family home in Caringbah to move to Orange two years ago and shares his sister's passion.
"After school, I went on a Rotary exchange overseas and it opened my eyes to what help is needed in third world countries in terms of dental health," Ben said. "With an insight to the Charles Sturt University course through Kate, and knowing I had family nearby in Bathurst, I was keen to come to Orange to study dentistry."
"It's a great course," Kate said. "I decided to do it because it was the most hands-on, practical degree available where you're not just focusing on theory but you get to start drilling in first year. It gives you the opportunity to refine your skills and working in the public clinic boosts your confidence.
"I lived on campus to start with and I loved it. The courses on Orange Campus are similar, so you're surrounded by people with common interests. Everyone's so friendly and you tend to mingle with a broad group of interesting people and academics. You're not just a number, you're a name."
Kate and Ben now live together in town and struggle to find any negatives about their situation. "We get on really well," Ben said. "We have different tastes in music but that's the only thing. We both appreciate our family's support."
Ms Xouris hopes to specialise in paediatric dentistry. "There's a huge need for dentists who specialise in special needs children so I'm investigating that."
Mr Xouris says it's too early in the degree to really tell what sort of area he will specialise in. "I'm interested in doing some volunteer work as part of my degree if I can."