The first class of veterinary science students at Charles Sturt University (CSU) will gather in Wagga Wagga on Friday 6 August to swear an oath to loyally serve their chosen profession.
After starting their
Bachelor of Veterinary Science
degrees in 2005, 30 students from across Australia completed their final exams at CSU in Wagga Wagga early this month.
The Veterinarian's Oath will be taken by the students at the ceremony in the Riverina Playhouse from 2pm on Friday 6 August. Vice-Chancellor and President Professor Ian Goulter will present the students will a small memento of their place in the University's history.
"The veterinary science program at Charles Sturt University is comprehensive, strong and focussed on effective practice; qualities which have been instilled in our first group of students," Professor Goulter said.
"As they take their place in the professional world, the students should be congratulated for the commitment they have clearly shown in completing their degrees."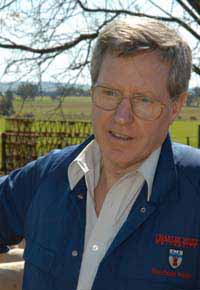 "Many of our staff with a wealth of expertise and experience moved to Charles Sturt University from all parts of Australia and the world to be part of our veterinary science program," said Head of the School of Animal and Veterinary Sciences, Professor Kym Abbott who moved to CSU from the United Kingdom in 2004 to oversee the introduction of the new six-year double degree.
"We have been all working towards this day for many years," Professor Abbot said.
"What we have produced are top quality graduates who have benefited from a distinctive course including the selection of students with a clear commitment to working in regional Australia; modern purpose-built veterinary facilities; and an innovative course which develops strong skills in problem-solving and a commitment to lifelong learning.
"The August ceremony is a big event for the inaugural students as well as staff, Charles Sturt University as an institution and of course rural and regional Australia who need these excellent veterinarians.
"This program would not have been possible without the help, resources and commitment of a range of supportive parties including government, industry and veterinarians in private practice.
"Most of the students from across Australia have already secured employment with more than 90 per cent opting for a rural practice as their first place of work.
"It also appears it wasn't all work for this inaugural group as two of the veterinary science students married each other early last year and another couple also announced an engagement in 2009."
The students will graduate from CSU at the official graduation ceremony in Wagga Wagga in 2011.