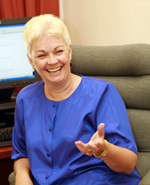 The Dean of the
Faculty of Education
at Charles Sturt University (CSU), Professor Toni Downes, has welcomed the announcement today, 30 September, by the NSW Minister for Education, Ms Verity Firth, of new partnerships between the University and schools in the State's Western and Riverina regions.
The NSW and federal governments had previously announced that they would partner with universities to turn 50 schools in NSW into 'Centres for Excellence' in order to develop high quality teaching and improve teacher training.
The minister announced that CSU will be partnered with Mudgee High in the Western Region, and Temora High in the Riverina.
Professor Downes said CSU has excellent relationships with all schools in the University's footprint and she looks forward to closer relationships with these two in particular.
"We have some exciting ideas within our
Teachers for the 21st Century Project
to discuss with the schools, and we are setting aside the $2.9 million teaching and learning capital grant to build the high-tech classrooms that will enable Charles Sturt University students and staff to interact online with the teachers and students in these schools," Professor Downes said.
The range of initiatives under the
Teachers for the 21st Century Project
, including work with these schools, will be led by Associate Professor Jane Mitchell at the
School of Teacher Education
at Bathurst, and Associate Professor Barney Dalgarno at the
School of Education
at Wagga Wagga.