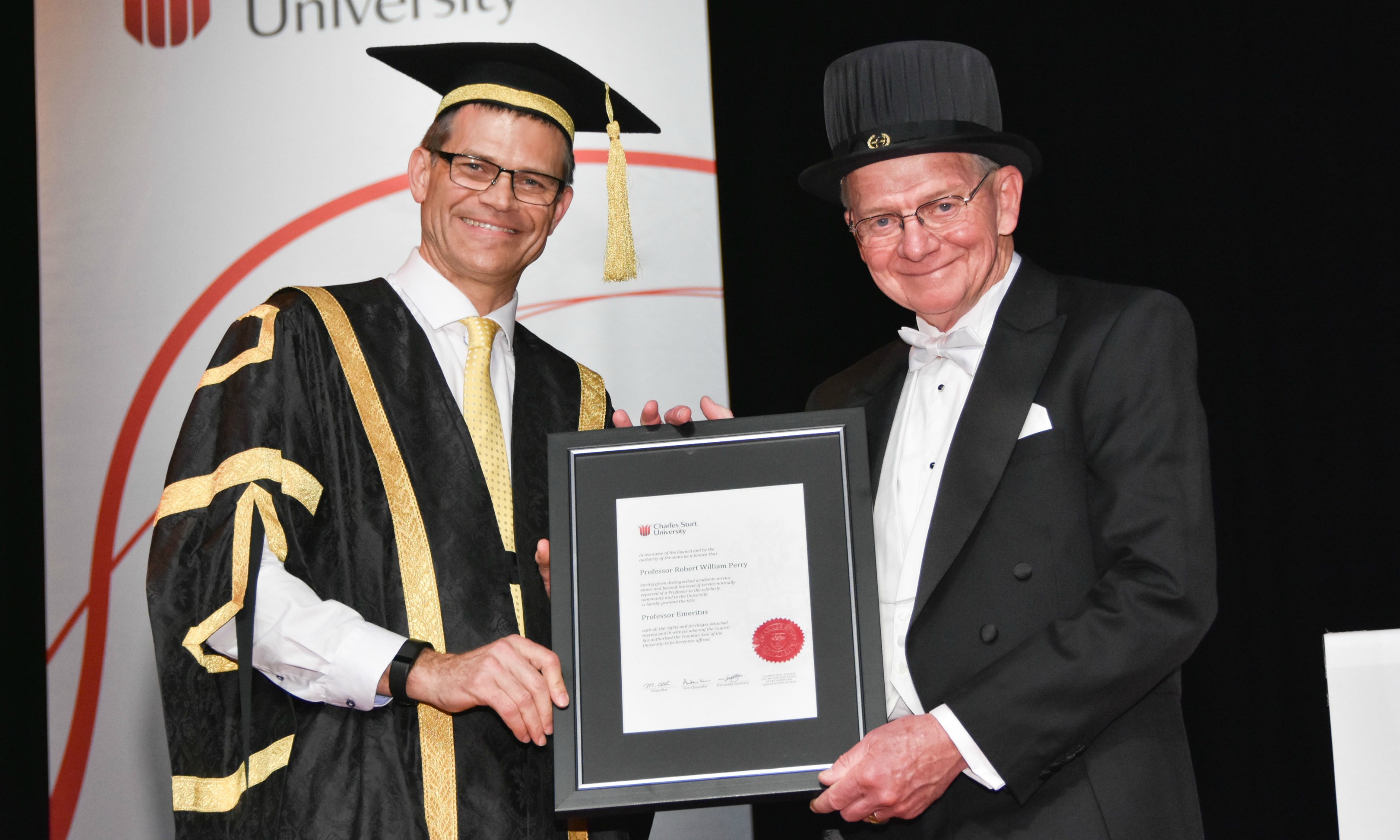 In a teaching and academic career spanning more than 45 years, Charles Sturt University (CSU) Emeritus Professor Bob Perry has nurtured the next generation of educational researchers.
This was evident at CSU in Albury-Wodonga on Tuesday 13 December, when the title of Emeritus Professor was conferred on Professor Perry during the same ceremony that four of his doctoral students were awarded their PhDs.
Dressed in academic dress from a Swedish university, a beaming Professor Perry told the 150 CSU graduates he was 'so immensely proud' of his doctoral graduates who've brought him great joy at the same time as challenging him.
During his Occasional Address, Professor Perry said "It's our task to pursue that which we care about and share our skills and knowledge in a socially just manner."
He asked the graduates from the Faculty of Arts and Education and the Faculty of Science to, "Go forth and make a difference to the community."
He also echoed the words of explorer Charles Sturt to encourage the graduates to 'work and live for the public good'.
The Citation for the conferral of the title of Emeritus Professor highlights the University's enormous respect for Professor Perry's intellect, vision and commitment to the fields of early childhood mathematics and educational transitions, as a means to benefit society and the public good.
Professor Perry's work in this field is internationally recognised, including his extensive transition to school research.
Professor Perry was the lead academic in the development of the early years mathematics program Let's Count which has been implemented in more than 75 Victorian preschools.
Earlier this year, he was part of a team awarded the Beth Southwell Practical Implications Award, from the Mathematics Education Research Group of Australasia in 2016.
Professor Perry's research in Indigenous communities has earned him the esteem of community members and Elders, as well as his peers in the university community. Professor Perry's has also undertaken research and work in the Pilbara.
He was awarded an Honorary Doctorate from Sweden's Mälardalen University in 2015 and wore the Swedish academic dress during the CSU ceremony in Albury.
Professor Perry retired from CSU earlier this year. He will continue his association with the University as Emeritus Professor through doctoral supervision, publications and mentoring colleagues.