- Federal Shadow Innovation Minister Deborah O'Neill visited CSU today.
- The tour included inspections of the University's National Life Sciences Hub (NaLSH), the new multi-million-dollar solar PV project, the National Wine and Grape Industry Centre (NWGIC) and Cellar Door.
- In 2016 the University was certified as Australia's first carbon neutral university.
- Joining the Senator was Wagga City Councillor Daniel Hayes.
https://www.dropbox.com/sh/zzijqy8i9l4aigm/AAA50GrANOsnmv4-T7S0ENr3a?dl=0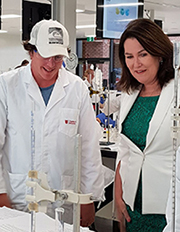 Charles Sturt University's (CSU) innovation in the laboratory and on the rooftops was on show during a tour of Charles Sturt University (CSU) in Wagga Wagga today by Shadow Assistant Minister for Innovation and Mental Health, Senator Deborah O'Neill.
"Regional Universities like Charles Sturt University are the linchpin for tertiary education in regional and rural Australia," Senator O'Neill said.
"Universities such as CSU are important anchors within the community which attract people to live work and invest in rural and regional Australia and it is fantastic to see the incredible research and innovation that is happening on the Wagga campus," Senator O'Neil said.
Officially opened late last year, the solar photovoltaic (PV) project involved the installation of 6 000 panels on the rooftops of 17 buildings at CSU in Wagga Wagga to generate 1.77 megawatts of power at peak output.
In welcoming Senator O'Neill, Director of Government and Community Relations at CSU, Mr Peter Fraser said, "The solar project further enhances Charles Sturt University's reputation as a leading practitioner in sustainability and followed the University's certification as Australia's first carbon neutral university in 2016."
Senator O'Neill was briefed on the solar energy system by the Manager of the University's sustainability unit CSU Green. Senator O'Neill was joined on the tour by Wagga Wagga City Councillor Daniel Hayes as well as senior academic staff at CSU.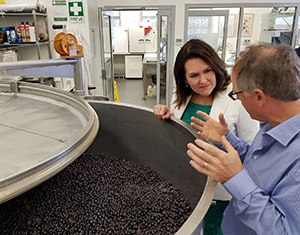 CSU's innovation was also on display during the tour of laboratories at the NaLSH and NWGIC ahead of a visit to the CSU Cellar Door – home to the University's new boutique wine range.
Background
The solar PV project was officially unveiled in November 2017. The project cost approximately $3.2 million and took six months to construct on the rooftops of buildings at CSU in Wagga Wagga.
The NWGIC at CSU in Wagga Wagga conducts world-class research in grape and wine sciences, and is an alliance between CSU, NSW Department of Primary Industry, and the NSW Wine Industry Association.
The NaLSH offers CSU researchers, academic staff and students a leading teaching, learning and research facility. Including the life sciences building, phytotron and rhyzolysimeter, the Hub focusses on plant and animal sciences, food production and security, animal health and water and environmental sciences. The NALSH is registered with the Green Building Council of Australia's sustainable building system (Green Star) and is designed to operate with 35 per cent less energy than conventional buildings.